Builder
William "Bill" Hay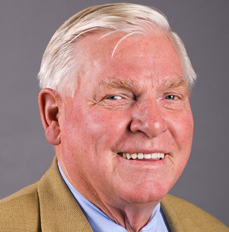 Bill Hay was born in Saskatoon and raised in Regina. He enjoyed a minor hockey career with the Regina Pats from 1952-55, highlighted by the 1955 Memorial Cup final.
An education at Colorado College from 1955-58 followed, where the team won the NCAA Championship in the 1956-57 season. Bill was an integral part of the team. He earned All-Star and All-American honours twice while completing his Bachelor of Science degree in geology.
In 1958, Bill attended the Montreal Canadiens training camp and was loaned to the Calgary Stampeders of the WHL. The following season, Bill's contract was purchased by Chicago and he played with the Blackhawks from 1959-67. Bill was the first college graduate to play in the NHL.
Bill earned the Calder Memorial Trophy as Rookie of the Year in 1960. He spent most of the next eight years on "The Million Dollar Line" between Bobby Hull and Murray Balfour. In the 1960-61 season, he led the Hawks in scoring with 59 points, setting a team record with 48 assists and helping the Blackhawks win the Stanley Cup in 1961. He appeared in two All-Star games during his playing career.
An exciting career in the oil and gas industry in Calgary followed, and in 1990-91 Bill joined Hockey Canada as the president and chief operating officer. After one season, Bill accepted a position as president and CEO for the Calgary Flames, serving in that role until 1995.
Hay has also served as the planning advisor for Hockey Canada's Centre of Excellence, and was a member of the Canadian Special Olympics Advisory Board and the Hockey Hall of Fame Selection Committee. In 1999, Bill was hired as the chairman of the Hockey Hall of Fame, a role he continues to perform.
Hay's list of accomplishments includes induction into the Saskatchewan Sports Hall of Fame in 1992, the Colorado College Hall of Fame in 1995, and the Colorado Springs Hall of Fame in 1998.
Back to Inductees