Player
Wendel Clark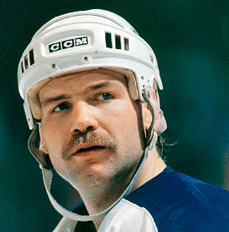 Wendel Clark (Kelvington) has been inducted into the Saskatchewan Hockey Hall of Fame as a player.
Clark had a very impressive career starting in Junior as a defenceman with the Saskatoon Blades. During his junior career, he was on Team Canada's Gold Medal-winning team at the 1985 World Junior Championships. That same year, he was drafted first overall by the Toronto Maple Leafs.
Clark played the majority of his career with the Maple Leafs, but also dressed with five other teams. Clark was a member of the Maple Leafs from 1986-94, Nordiques in the 1994-95 season, and Islanders for part of the 1995-96 season before going back to Toronto until 1998. During the 1998-99 season, he was with Tampa Bay and Detroit before finishing his career in the 1999-2000 season with Chicago and Toronto.
During his professional career, Clark played 793 games, collected 234 points, recorded 1,690 penalty minutes and was the captain of the Maple Leafs. He was also selected to two NHL All-Star games, the first in 1986 and the second in 1999.
Back to Inductees