Player
Victor Lynn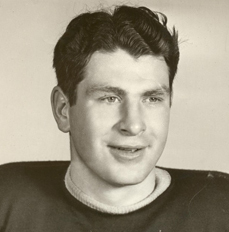 Victor Lynn (Saskatoon) has been inducted into the Saskatchewan Hockey Hall of Fame as a player.
Lynn played with all of the Original Six teams during his 20-year career. In a span of 327 games, he collected 125 points and 274 penalty minutes. Lynn started his career in New York in 1942 playing with the Rangers for one game. Lynn spent the majority of his NHL career with the Toronto Maple Leafs.
During his time with the Leafs, he helped the team to three consecutive Stanley Cup championships.
After his playing career was over, Lynn came back to Saskatchewan to become the Head Coach of the Prince Albert Mintos and Saskatoon Quakers.
Back to Inductees