Grassroots
Thomas "Tommy" E. Huston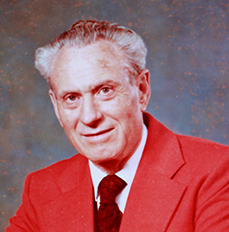 Thomas "Tommy" E. Huston has been inducted into the Saskatchewan Hockey Hall of Fame in the Grassroots category.
Huston was born and raised in and around Weyburn where he came to be known as Mr. Hockey to many due to his dedication, hard work, and support to the game through his involvement in the Weyburn Red Wings organization and to the Saskatchewan Junior Hockey League as a whole.
He was a faithful supporter of the Weyburn Red Wings since their inception in 1961. He served on the Board of Directors as President and Treasurer. Throughout his many years with the Wings, he handled the program write-ups, trophies, marketing, selling hockey pool boards as well as many other jobs. Even as a 93-year-old, he numbered and folded programs, sold his hockey boards and distributed the winnings around Weyburn, got the donations from various sponsors for program prizes, and looked after the game program lucky numbers.
Huston was the recipient of the Golden Spike Award in 1984. In January 2007, city council named the road south of Crescent Point Place after him in recognition of the work he did for the Red Wings, Minor Hockey and Figure Skating. He was honoured in March 2007, as Red Wing Volunteer of the Year. And he was also honoured by Hockey Canada when he received a national award for volunteerism.
Huston never retired from volunteering at the Red Wings games and his involvement continued until his passing in 2007 at the age of 94.
Back to Inductees