Builder
Terry Simpson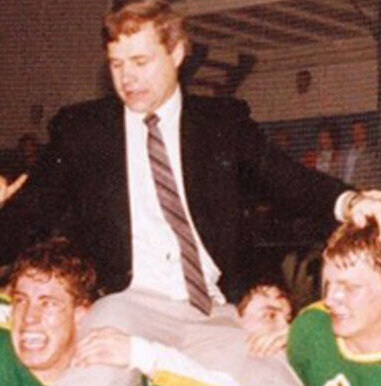 Terry Simpson has been inducted into the Saskatchewan Hockey Hall of Fame as a builder. Simpson had a notable coaching career in junior hockey with the Prince Albert Raiders. He was the coach for the Raiders from 1972-86 and 1989-90. He led the team to seven consecutive Anavet Cups and four Centennial Cup titles (77,79, 81, and 82). After the Raiders joined the Western Hockey League, he led them to the 1985 Memorial Cup championship. During this time, he was awarded WHL Coach of The Year in 1984 and 1986.
Simpson coached 338 games in the National Hockey League for the New York Islanders, Winnipeg Jets, and Philadelphia Flyers. He was also the Assistant Coach with the Anaheim Mighty Ducks, Winnipeg Jets, and Toronto Maple Leafs.
In 1985, he won the Gold Medal in the IIHF World Junior Championship as well as a Silver Medal in 1986.
Back to Inductees