Player
Ron Delorme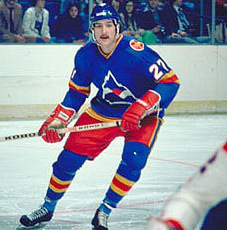 Ron Delorme has been inducted into the Saskatchewan Hockey Hall of Fame in the Player category.
Delorme was born in North Battleford and grew up in Cochin. A popular player with his teammates and the fans, Delorme was a hero to First Nation Canadians. Delorme became a role model for aspiring hockey players and athletes. "Chief," his nickname, spent a lot of his spare time encouraging First Nations youth to aspire for great things like he did.
He played his minor hockey in the area prior to moving to Prince Albert for his first season of Junior hockey with the Raiders of the Saskatchewan Junior Hockey League. The following season, he joined the Swift Current Broncos of the Western Hockey League where he played 59 games. The next year when the team was moved to Lethbridge, he tallied 87 points and 144 penalty minutes in 69 games.
Delorme was drafted by the Kansas City Scouts in the fifth-round, 56th overall, in the 1975 NHL Entry Draft. He split the next season playing with his Junior club in Lethbridge, the WHA in Denver and the CHL in Tucson. The following season, he made his NHL debut in 1976 with the relocated Scouts, which became known as the Colorado Rockies. Delorme would play four full seasons with the Rockies, becoming one of Don Cherry's favourite players. The six-foot-two 185lb right winger scored a career-high 20 goals in 1978-79 and a career-high 43 points the year later.

Delorme was left exposed in the pre-season waiver draft in 1981 and the Canucks quickly picked up the big winger. His best statistical season was his first on the West Coast as he scored 17 points and accumulated a career-high 177 penalty minutes. He also was a regular player in the Canucks' Cinderella Stanley Cup playoff run of 1982.

Delorme's career came to an end 31 games into the 1984-85 season when he sustained extensive damage to his left knee following a collision. He missed the rest of the season and when he still wasn't fully recovered by the time the 1985-86 season started, Delorme decided he couldn't play anymore.
In 1986, Delorme became an Amateur Scout with the Vancouver Canucks and is now the Chief Amateur Scout, a position he gained in 2000 with the Canucks.
Back to Inductees