Player
Orland Kurtenback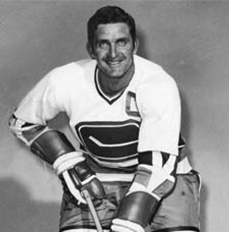 Orland Kurtenbach was born in Cudworth, but moved to Prince Albert at age 10 when he began playing organized hockey. He played in the SJHL with the Prince Albert Mintos while also making brief appearances with the Saskatoon Quakers of the minor professional Western Hockey League (WHL). In 1957, Kurtenbach finished the season with the Flin Flon Bombers, where he helped the team win a Memorial Cup title.
Kurtenbach turned professional in 1957-58, signing with the Vancouver Canucks of the WHL and earned Rookie of the Year honours. The majority of his early professional career would be spent in the minors, splitting time between the AHL with Buffalo, Springfield and Providence, and the WHL with San Francisco where he did help them win the league championship. In 1965-66, he became a member of the Toronto Maple Leafs and the following year he joined the New York Rangers, where he spent four seasons. Kurtenbach was obtained by the Canucks and was named the franchise's first NHL captain. Kurtenbach retired from the NHL after four seasons with Vancouver.
The season after his NHL retirement, Kurtenbach joined the Seattle Totems of the Central Hockey League as Head Coach. He then coached two seasons with the Tulsa Oilers of the same league, won a championship in his first season and was named CHL Coach of the Year. In 1976-77, Kurtenbach returned to the NHL midway through the season as Head Coach of the Vancouver Canucks. This would mark the third time in his playing and coaching career that he would represent Vancouver. To round out his coaching career, he led the Richmond Sockeyes of the BCHL to the 1987 Centennial Cup before retiring.
In 2010, Kurtenbach was the first Canucks player inducted into the team's Ring of Honour. And in 2012 was inducted into the Saskatchewan Sports Hall of Fame.
Back to Inductees