Player
Murray "Bert" Olmstead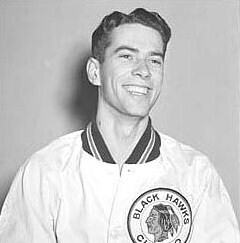 Murray "Bert" Olmstead grew up playing hockey in Sceptre, a small village located in southwestern Saskatchewan. Olmstead moved away from home in 1944 when he played Junior hockey with the Moose Jaw Canucks. Olmstead and the Canucks would challenge for two consecutive Memorial Cups, losing both times to the St. Michael's Majors from Ontario.
Following Olmstead's Junior career, he had been assigned to the United States Hockey League's Kansas City Pla-Mors. Olmstead played two full seasons before getting a shot at the National Hockey League during the 1948-49 season. Midway through the season, Olmstead would be called up to the Chicago Blackhawks where he appeared in nine games, collecting two assists. The following season, Olmstead made the jump to the National Hockey League full-time for the Blackhawks, scoring 20 goals, 29 assists, for 49 points. It was in the 1950-51 season that Olmstead would be traded to the Montreal Canadiens. He went on to capture four Stanley Cups with the Canadiens, first in 1953, and then three times consecutively from 1956 to 1958. Following a knee injury, Olmstead was told to consider retirement and that lead him to be left unprotected in the 1958 Intra League Draft. Olmstead would be selected first overall by the arch rival' Toronto Maple Leafs. Olmstead played for the blue and white from 1958 to 1962, culminating in his fifth Stanley Cup to conclude his storied career.
During Olmstead's 848 games in the National Hockey League, he would score 181 goals, 421 assists, for 602 points along with 884 penalty minutes. Olmstead would be known as "Dirty Bertie" for his physical style of play. Olmstead's achievements lead him to be recognized by the Hockey Hall of Fame in 1985 and Saskatchewan Sports Hall of Fame in 1998.
Back to Inductees