Official
Michael "Mick" McGeough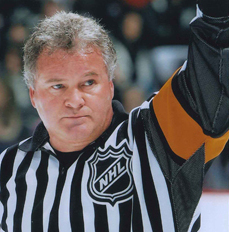 Mick, a Regina native, got his start working games at the age of 23, following a hockey career that wrapped up in Spokane, Wash., in the Western International Hockey League.
He started out as a linesman in the Western Hockey League (WHL) but quickly switched to referee. Mick moved up the ranks in his WHL career which culminated by officiating the 1986 Memorial Cup final game. In 1987, Mick transitioned to the National Hockey League and in 2001 he was the official at the All-Star game.
In 2006, he refereed in the Stanley Cup final series between the Edmonton Oilers and the Carolinas Hurricanes. On Feb. 3, 2007, Mick McGeough refereed his 1,000th career game in the NHL.
Mick refereed his last career regular-season game on April 5, 2008, featuring the Anaheim Ducks against the Los Angeles Kings.
In 2010, McGeough was inducted into the Saskatchewan Junior Hockey League's Hall of Fame.
In 2012, the Regina native won the Ron Foxcroft Award for a Canadian Sports Official and was also inducted into the Sports Officials Canada Hall of Fame.
Mick has served in his present role as the officiating manager for the NHL for the last five years.
2001: Official at the All-Star game
Feb. 3, 2007: Ref'd his 1,000th career game
2006: Ref'd the Stanley Cup final – Edmonton Oilers vs. Carolina Hurricanes
April 5, 2008: Last career regular-season game reffing – Ducks vs. Kings
2010: Inducted into the Saskatchewan Junior Hockey League's Hall of Fame
2012: Won the Ron Foxcroft Award for a Canadian Sports Official
2012: Inducted into the Sports Officials Canada Hall of Fame
Back to Inductees