Official
Mark "Wheels" Wheler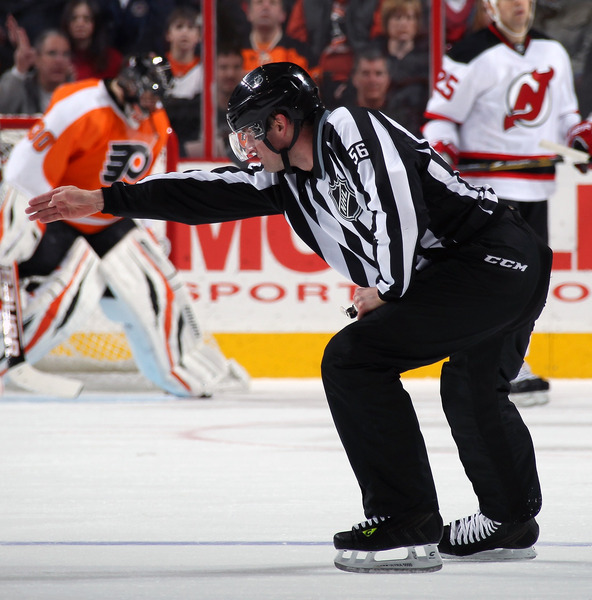 Former top NHL linesman Mark Wheler began to ref minor hockey in the Battlefords area at age 13 in 1978. He was introduced to officiating by his brother Ken, a future SHHOF inductee, and soon progressed to lines Saskatchewan Junior Hockey League (SJHL) games by the time he could obtain a driver's licence.
After graduating high school, Wheler moved to Saskatoon to take his officiating career to the next level and joined the Western Hockey League (WHL). While working games for the WHL, he was selected to officiate the 1989 and 1992 Memorial Cups for the Canadian Hockey League.
In 1992, the Ottawa Senators and Tampa Bay Lightning expansion teams joined the NHL leading to Mark receiving his first contract from the league. Over an illustrious career, Wheler was selected three times to work the prestigious Stanley Cup final. His first final was in 2001 between the Colorado Avalanche and New Jersey Devils, then in 2003 between the Mighty Ducks of Anaheim and New Jersey Devils. He was also selected to work the following final (2004) between the Calgary Flames and Tampa Bay Lightning where he earned the ultimate reward by being assigned to a Game 7.
Upon his retirement from the NHL in 2018, he officiated 1,735 regular-season games and 111 playoff games. Additionally, Wheler has officiated in numerous high-profile assignments, including the 1987 Centennial Cup, two outdoor stadium series games (2011 and 2017), and worked as a linesman at the 2014 Olympic Winter Games in Russia.
He was a mentor during his time with Battlefords Minor Hockey as well as in the NHL, helping guide young officials on how to properly present themselves to be successful in not only the officiating world but in everyday life. Even after his NHL retirement, he never stopped providing his time and support in the form of equipment donations and even a scholarship for his hometown officials.
Wheler is well-respected for being a true gentleman who has dedicated his career to the sport of hockey. In the minor hockey leagues of the North Battleford area, he quickly earned a reputation for his high character through his effort and dedication to be seen as the perfect example for any official to emulate. The hockey world and Saskatchewan officiating community have both been impacted in a very positive way because of Mark's involvement, resulting in his rightful place in the Hall of Fame.
Back to Inductees