Player
Mandi Schwartz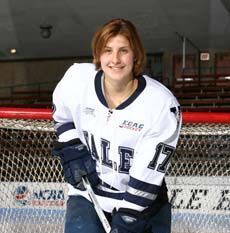 Mandi Schwartz (Yorkton, SK) started playing minor hockey at the age of 6 in Melfort, Saskatchewan before her family relocated to Emerald Park where she would play Tier 1, boys hockey. As Schwartz made her way to the Midget age-level she would be on the move agian, this time to Wilcox, Saskatchewan as she enrolled at Athol Murray College of Notre Dame.
Playing on the Hounds, Schwartz would capture three provincial titles and win one Western Canadian Championships. In 2003, Schwartz would play for Team Saskatchewan in the Canada Winter Games, helping the team capture a bronze medal. During the 2004-05 and 2005-06 seasons, Schwartz and the Hounds would take home back-to-back championship titles at the Mac's Midget 'AAA' Hockey Tournament.
After graduating Notre Dame in 2006, Schwartz would continue her hockey career at Yale University with the Bulldogs of the National Collegiate Atheletics Association. During her freshman and sophomore seasons, Schwartz played in all 62 games, recording 9 goals, 18 assits for 27 points. At the start of her junior season, Schwartz extended her consecutive games steak, playing 11 games (73 total) before facing a sudden illness. In December of 2008, Schwartz had a tough road ahead when she was diagnosed with acute myeloid lukemia. Schwartz began treatment over the next two years and in 2010 was cleared to practice with her teammates and continued her schooling. After receiving treatment and the news that her cancer had gone into remission, Schwartz would later learn that the cancer returned in December, 2011. On April 3, 2011, Mandi Schwartz tragically passed away in a Regina hospital after being admitted the day preceding.
During treatment, the medical team extensively searched for a bone marrow match for Mandi but none were found before her passing. Mandi Schwartz left behind a legacy of resilience and inspiration as she fought courageously each day. The response from both the hockey community and sporting world has lead to at least 60 perfect matches and a tremendous increase in registries through the Mandi Schwartz Foundation, Run for Mandi and countless other initiatives. Schwartz is remembered as a strong academic leader, receiving ECAC Hockey All-Academic honours in all three season at Yale University. The Athol Murray College of Notre Dame recognizes her tremendous impact through the Mandi Schwartz Memorial Bursary and the annual Mandi Schwartz Memorial Hockey Tournament.
Back to Inductees