Builder / Grassroots
King Family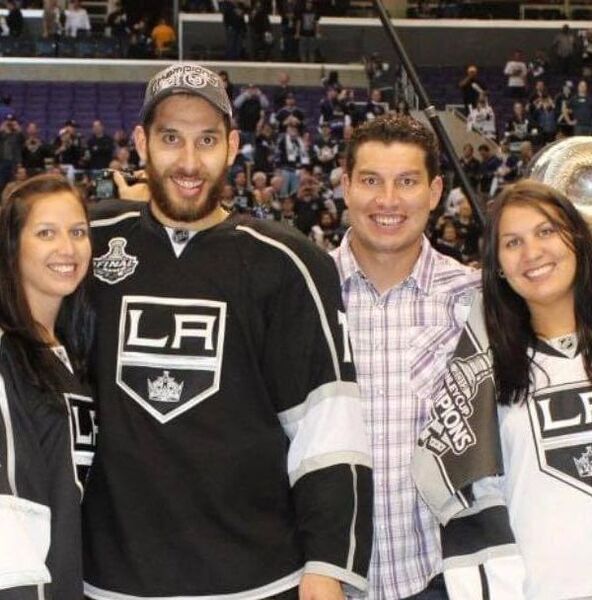 The King family is being inducted into the Saskatchewan Hockey Hall of Fame under the category of Builders/Grassroots, recognizing the significant contributions they have made to the development of hockey in the province, specifically in their hometown of Meadow Lake.
Brothers Dwight and Dwayne "D.J." King, along with sisters Danene (King) Kopperud and Dayna King, are a family of hockey builders and grassroots enthusiasts who have made significant contributions to the sport in northern Saskatchewan.
Dwight King, a former professional hockey player, began his Junior career with the Western Hockey League's Lethbridge Hurricanes before being drafted by the Los Angeles Kings in 2007. He went on to play for the Kings and Montreal Canadiens over the course of a roughly 8-year NHL career which included winning the Stanley Cup in 2012 and 2014 with Los Angeles.
D.J. King, the oldest sibling, also played in the NHL for the St. Louis Blues and Washington Capitals. Prior to his professional career, D.J. played mostly for the Lethbridge Hurricanes before being acquired by the Kelowna Rockets during his last WHL season. He would go on to help the Rockets secure the 2004 Memorial Cup.
The sisters were both accomplished hockey players in their own rights as athletes of Canadian Interuniversity Sport (CIS), which is now known as U Sports. During their time together with the University of Saskatchewan Huskies, Danene was the rock which helped mould her younger sister Dayna into the woman of strength that stands tall today. Dayna is also a graduate of the Sask First high-performance program and former assistant captain of Team Saskatchewan.
Since retiring from playing hockey, the King siblings have given back to the next generation of hockey players in northern Saskatchewan. All four siblings are still heavily involved in the community with the brothers coaching minor hockey as well as sisters running the all-female portion of King's Hockey School, which has run youth hockey camps for over a decade.
The King family, who are of Métis heritage, has also been active in promoting hockey as a way of life, encouraging kids to pursue their dreams and showing them that with hard work, anything is possible. With the loving support of parents Donna and Dwayne, their dedication and passion for developing the next generation of hockey players in northern Saskatchewan has not gone unnoticed and now stands forever in the Hall of Fame.
Back to Inductees