Official
Kevin Muench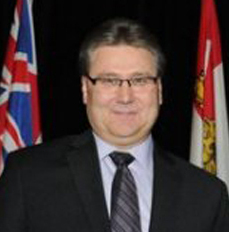 Kevin Muench (Humboldt) has been inducted into the Saskatchewan Hockey Hall of Fame as an official.
Muench has been an official with the Saskatchewan Hockey Association (now Hockey Saskatchewan) since 1976. During his time, he has worked his way to becoming one of the top officials in the country. He has been a referee in three IIHF tournaments including the 1994 Winter Olympics in Norway. His on-ice work also consists of numerous Memorial Cup championships, CIS national championships, and Royal Bank Cup championships.
Along with his contributions to the sport on the ice, Muench has been a key member of officials' development off the ice. This includes roles such as a Supervisor of Officials, Seminar Instructor, Director of Referee Development for the WHL and much more.
Muench's dedication to Hockey Canada was recognized in 2011 when he was presented with the Hockey Canada Officiating Award, given in recognition of a lifetime of achievement.
Back to Inductees