Player
Johnny Bower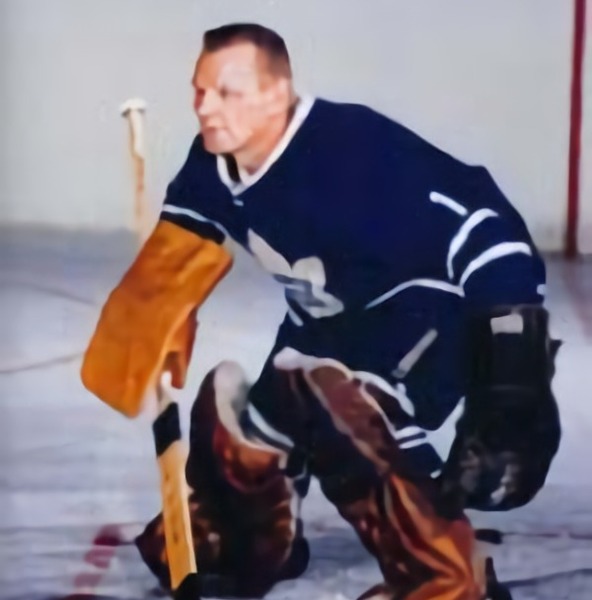 Johnny Bower (Prince Albert) did not follow the typical path to greatness during his legendary career. Bower was raised in rural Saskatchewan and played his Junior hockey in Prince Albert. Bower was the lone boy in a family of nine children. During this time, his family could not afford proper equipment, so Johnny improvised with what he had. He created his pads from an old mattress, made pucks from horse manure and shaved tree branches into sticks with his father.
At only 15 years old, Bower lied about his age to enlist with the Canadian Army. He was then sent to British Columbia for training and later was recalled by the Queen's Own Cameron Highlanders on route to England. After spending four years in England, he became ill during his service and was discharged in 1944 where he returned to Prince Albert and began playing hockey once again.
Finishing his Junior stint in Prince Albert. Bower then moved on to the American Hockey League where he spent 14 years in the Minors between Providence and Cleveland. Bower won the Les Cunningham Award as the AHL's best player three times and the Hap Holmes Award for top goaltender another three times.
At the age of 34, Johnny's perseverance finally paid off. The Toronto Maple Leafs claimed Bower from Cleveland in the 1958 Intra-League Draft where he would then guard their cage for the next eight seasons. The fearless goalie shied away from no battle while suffering numerous facial injuries because of refusing to wear a mask. Bower only got better with age and claimed three consecutive Stanley Cups from 1962-64 with the Leafs. Bower simply refused to retire and kept right on going, teaming with Terry Sawchuk to win the memorable 1967 Cup with Toronto's loaded group of players, led by the 43-year-old Bower himself. After finally calling it a career, he retired in 1970 as the oldest goalie ever to play in the NHL.
Bower's mark on the game will never be forgotten. Johnny's life-size statue can be seen as the centerpiece in the lobby of Prince Albert's Art Hauser Centre. He was inducted into the Hockey Hall of Fame in 1976 and most recently the Toronto Maple Leafs raised his number one jersey to the rafters of Scotia Bank Arena in 2017.
Back to Inductees