Builder
John Kelly Lovering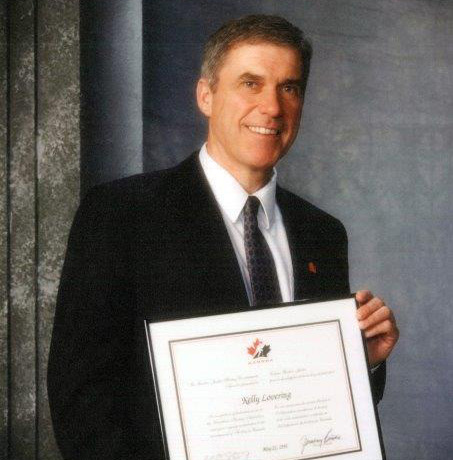 John Kelly Lovering (Regina) has been inducted into the Saskatchewan Hockey Hall of Fame in the Builder category.
Lovering was a teacher and a coach not only in Saskatchewan but all around the world. Although it was his coaching in hockey that become renowned, he also spent time coaching basketball, volleyball and football. Overall, he captured 14 provincial championships as a coach.
In 1995, he received the Gordon Jukes Award, presented by Hockey Canada, to acknowledge exceptional contributions to the sport's development at the national level. As the chairman of the National Coaching Committee, he wrote coaching manuals that established a foundation for evaluation and instruction. In addition, he conducted coaching clinics across Canada and internationally including places such as Iceland, Japan, China, Australia, Spain, South Africa and England. In addition, he spent multiple seasons coaching the Australian National Hockey Team which captured silver and three bronze medals at the IIHF World Championships during his tenure.
Lovering spent 10 years at Campbell Collegiate and a decade at Athol Murry College of Notre Dame where he coached a number of notable players including Wendel Clark, Curtis Joseph and Rod Brind'Amour (a total of 38 players who eventually advanced to the NHL). He coached the La Ronge Ice Wolves of the SJHL in their augural season in 1997. He spent multiple seasons as an assistant coach with the Regina Pat Canadians and was a coach mentor with Hockey Regina.
Despite a long battle with cancer, he could still be found in a hockey rink coaching or simply enjoying the game he loved. Lovering passed away in December 2014. He is survived by his wife Mary Lyn, son Tyler, daughter Kristy and his grandchildren.
Back to Inductees