Player
Hayley Wickenheiser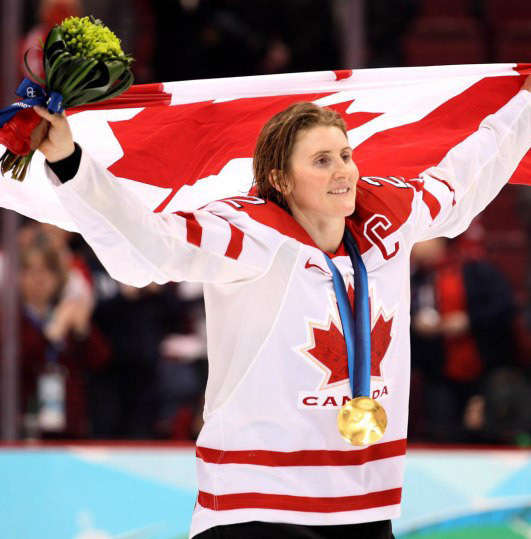 Hayley Wickenheiser (Shaunavon) has been inducted into the Saskatchewan Hockey Hall of Fame in the Player category.
Considered one of the best female hockey players in the world, Wickenheiser is a five-time Olympic medalist, four-time Olympic gold medalist and seven-time world champion.
Wickenheiser's ascent to the top of the sport started in Shaunavon when at 15, she was the youngest member chosen for the Canadian Women's National Team – a team she led to several championships. Wickenheiser made history in 2003 when she became the first female hockey player to notch a point in a men's professional game with the Kirkkonummen Salamat of the Finnish second division. She also played in Eskilstuna, Sweden, with a men's professional division-one hockey team for the 2008-09 season. Her Olympic career spans five Winter Olympics between 1998 and 2014, earning a silver medal in 1998 and four gold medals in 2002, 2006, 2010 and most recently in 2014 where she was also selected to be the flag bearer for the Canadian Olympic team during the opening ceremonies. She also competed in softball in the Sydney Summer Olympics in 2000.
Twice named one of Globe and Mail's "Power 50" influencers in sport, Wickenheiser's accolades include being named #20 on Sports Illustrated's Top 25 Toughest Athletes in the World in 2008 (one of only two females on the list that year), a two-time finalist for the Women's Sports Foundation Team Athlete of The Year, being named among the Top 10 "Greatest Female Athletes in the History of Sports" by the QMI Agency, and numerous MVP and All-Star selections. In 2011, she was amongst 50 notable Canadians appointed to the Order of Canada for her achievements as an athlete and for her contributions to the growth of women's hockey, and Wickenheiser was inducted into Canada's Walk of Fame in 2014.
Wickenheiser's passion for sport is equally matched by her desire to give back to the community through her work with organizations such as JumpStart, KidSport, Project North, Right to Play and many others. She has led numerous projects with the goal of raising the profile of women's sports around the world and constantly works to provide mentoring opportunities for young athletes including her legacy project "The Canadian Tire Wickenheiser World Female Hockey Festival."
An inspiration and trailblazer, Wickenheiser retired from hockey in January 2017 as the all-time leading scorer with 168 goals and 211 assists in 276 games. She holds a BSc from the University of Calgary and is currently pursuing a career in medicine.
Back to Inductees