Player
Gordon "Red" Berenson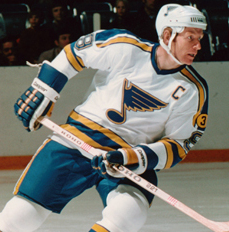 Gordon "Red" Berenson, native of Regina, played with the Regina Pats Midgets where he was named the SJHL Rookie of the Year in the 1956-57 season. From there, he attended the University of Michigan where he won the MVP award in 1962.
After university, Red joined the Montreal Canadiens (1961- 66), beginning a 17-year NHL career, including time with the New York Rangers (1966-68), St. Louis Blues (1968-71 & 1975-78), and the Detroit Red Wings ('71-75).
Berenson played in the original and legendary eight-game Canada Cup series for Team Canada vs. the Soviet Union in 1972 as well as the "old-timers" rematch of the Canada Cup in 1987. In the fall of 2005 he, along with the entire 1972 Team Canada roster, was inducted into the Canadian Sports Hall of Fame.
Following his retirement as a player after the 1977-78 season, Berenson remained in St. Louis as a member of the Blues' coaching staff. He took over as head coach with 56 games remaining in the 1979-80 season and the following year was named the NHL Coach of the Year.
In 1984, Berenson returned to his college Alma Mater as head coach, a position he holds to this date. Under Berenson's guidance, the University of Michigan Wolverines have appeared in 11 Frozen Four Championships as well as capturing the NCAA Championship in 1996 and 1998.
Record for the most goals in a road game (6)
Record for most goals in a period (4) which has only ever been matched by eight other players, including Wayne Gretzky and Bryan Trottier
Played on six NHL First All-Star teams
1981: NHL Coach of the Year
2000: Inducted into the Saskatchewan Sports Hall of Fame
2005: Inducted into Canadian Sports Hall of Fame along with the rest of the 1972 Team Canada roster
Back to Inductees