Player
Gordie Howe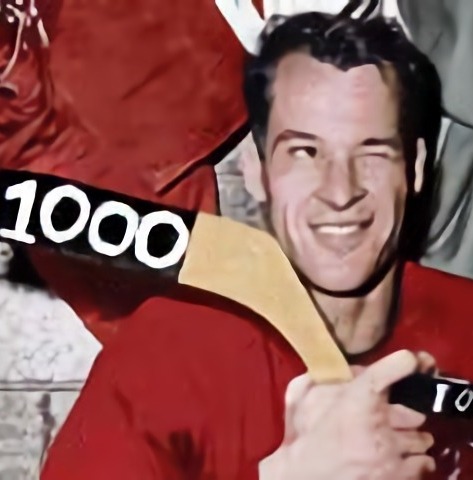 Gordie Howe, better known as "Mr. Hockey," had arguably as big of an impact on the sport as anyone to ever lace up a pair of skates. Howe was born on March 31, 1928, in Floral, Sask. Playing as a young boy, his unique combination of strength, skill, intelligence and determination was matured far beyond his years. Howe was naturally a man playing amongst boys which did not change as he transitioned into his professional career.
Howe broke into the league as an 18-year-old with the Detroit Red Wings. The ambidextrous Howe quickly stood out to legendary bench boss Jack Adams with his ability to play both hands so smoothly. Howe played at just over six feet tall and slightly over 200 pounds which made him one of the heaviest players in the league. Even with the combination of size and skill, Gordie was not sure that he would be able to stay in the NHL. In fact, he kept a scrapbook of his first year in Detroit to serve as proof of him playing in the league.
Even though Howe only scored seven goals in his rookie season, he developed a buzz among fans and opponents alike. Despite being a teenager in a league of fully grown men, Howe was not afraid of anything. Another tough star, Maurice "Rocket" Richard, challenged the rookie with a shove and a few angry words in Howe's first game in Montreal. Howe knocked Richard out cold with a single punch. On one of the biggest stages in hockey, the world was quickly put on notice that Gordie had officially arrived.
The following season, the Wings had constructed the most feared line in hockey: "The Production Line." Gordie would play on the right wing beside Ted Lindsay and Sid Abel where he more than doubled his scoring from the year prior. The trio of linemates simply could not be contained and finished the 1949-50 season first, second and third in the year-end scoring race. Building on the foundation of the big three, Gordie and Detroit's dominance would remain strong for many years to follow.
During Howe's 25th season in the league, he was among the top-10 scorers in 1969-70 but arthritis in his left wrist finally forced him to ponder retirement. Gordie's stint on the sidelines was short-lived when he was given an opportunity that he could not pass up: a chance to play with his sons. Mark and Marty Howe were two promising Junior prospects that were on the brink of breaking into the professional ranks. The Houston Aeros of the World Hockey Association offered Gordie a chance to play with his boys not only on the same team but on the same line. Gordie quickly underwent an operation in an attempt to improve his nagging wrist and came out from behind his desk to play again. He did his best to make hockey fly in Houston, going to unusual lengths to promote the game. Gordie moved with Mark and Marty to the New England Whalers in 1977 when the Aeros began to struggle. When the WHA merged with the NHL in 1979, Howe, age 51, played one final season, competing in all 80 games of the schedule with the Hartford Whalers.
In arguably the greatest NHL career of all time, Howe finished in the top 5 in NHL scoring for 20 straight seasons. He was selected to 21 NHL All-Star squads, 12 times to the First Team. Six times he led the NHL in scoring to capture the Art Ross Trophy and six times he won the Hart Memorial Trophy as the league's most valuable player. His Detroit teams won the Stanley Cup four times in 1950, 1952, 1954 and 1955.
Gordie left a tremendous impact in every community he called home and revolutionized the game each time he stepped on the ice. Mr. Hockey will never be forgotten.
Back to Inductees