Player
Fiona Smith-Bell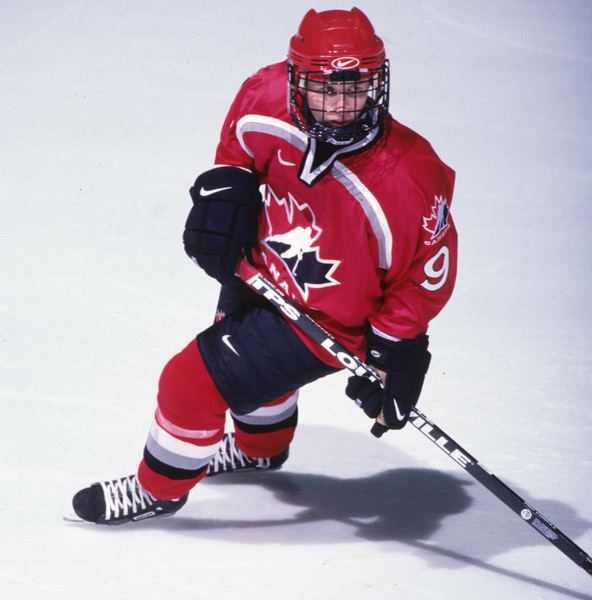 Fiona Smith-Bell found herself drawn to play hockey as a young girl growing up in Edam. Since girls' hockey programs were nonexistent at the time, she simply played with the boys with Battlefords Minor Hockey Association. When she was a teenager, Smith-Bell also competed in speed skating.
By 1991, women's hockey was gathering momentum. That year, Smith-Bell was named captain of the first-ever Saskatchewan women's hockey team to compete at the Canada Winter Games. From there, she would go on to compete in 13 national championships. She was a part of two national medal-winning teams: a bronze with the Calgary Olympic Oval team in 1995, and gold with the Edmonton Chimos in 1997.
Smith-Bell was also a member of the Canadian National Women's Hockey Team from 1994 to 2002. During that time, the team enjoyed many international victories, including three gold medals and one silver at the Three Nations Cup, gold at two Pacific Rim Championships, and gold twice at the International Ice Hockey Federation Women's World Championships. During that stretch, she was nominated (in 1999) as Saskatchewan Female Athlete of the Year. The highlight of Smith-Bell's career with Team Canada came in 1998. Women's hockey had been added as an event to the Winter Olympics for the first time. She was with the team as they battled their way to a silver medal. Smith-Bell retired from Team Canada in 2002, but continued to play hockey. In 2004-05, she spent a year with the Ottawa Raiders of the National Women's Hockey League. In 2005-06, she came back to Saskatchewan to play one season with the Lumsden Prairie Ice of the Western Women's Hockey League.
Smith-Bell also spent time with the International Ice Hockey Federation's Ambassador and Mentor Program as an athlete ambassador for the German hockey program. She experienced the growth of female hockey in Canada and jumped at the opportunity to help develop female hockey globally.
Smith-Bell's involvement in hockey continues in many ways including as a coach, facilitator and a proud hockey mom to her two sons.
She was inducted into the North Battleford Sports Hall of Fame in 2008 and the Saskatchewan Sports Hall of Fame in 2012.
Back to Inductees