Player
Ferdinand "Fernie" Flaman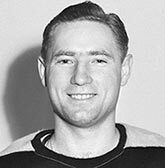 Ferdinand "Fernie" Flaman was born in Dysart and raised in Regina early on. Starting out, Flaman played with a variety of Regina Minor hockey teams until 1943 when the Boston Olympics, a Boston Bruins' farm team, enticed him to move to the United States. With Flaman's help, the Olympics dominated the Eastern Amateur Hockey League from 1943 to 1946, capturing the league championship each year. Flaman would then make a stop with the Hershey Bears before moving onto the National Hockey League's Boston Bruins full-time.
In 1947, Flaman played 14 full seasons with the Bruins franchise before being traded mid-season in 1950. Flaman's next destination was the Toronto Maple Leafs. That year, he enjoyed a Stanley Cup Championship with the Leafs and remained with the team until 1954. Following a trade in 1954, Flaman would find himself back with the Boston Bruins franchise. He went on to become the fourth captain in Bruins history.
Flaman was best known for his tenacious ability to prevent other teams from scoring. During his NHL career, he played 910 games, collected 34 goals and 174 assists, for a total of 208 points. Six times Flaman was selected for the NHL All-Star team. Following his NHL career, Flaman would take on a new role as player, coach, and general manager for the Rhode Island Reds of the American Hockey League during the 1963-64 season. Flaman would then transition to a coaching position full-time where he spent 19 years as the head coach of the division one Boston Northeastern University Huskies hockey team.
Flaman was inducted into the Rhode Island Hockey Hall of Fame in 1965, the Northeastern Hall of Fame in 1989, the Hockey Hall of Fame in 1990, and the Saskatchewan Sports Hall of Fame in 1992.
Back to Inductees