Player
Elmer Lach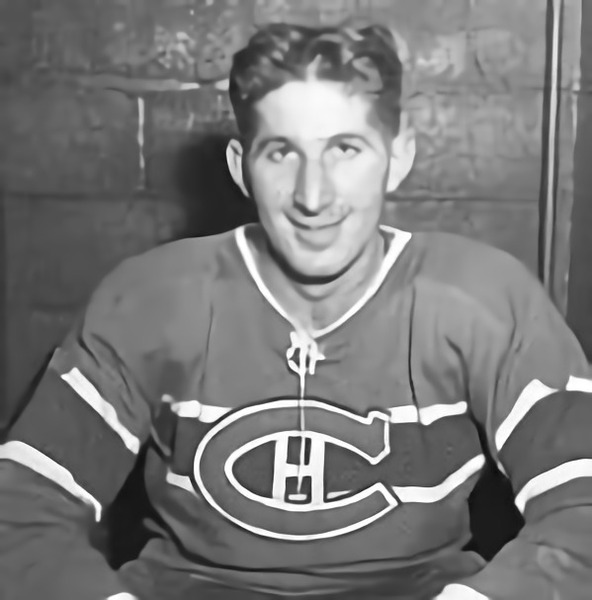 Elmer Lach was born in Nokomis, Sask., on Jan. 22, 1918. Lach played 14 seasons in the NHL and suited up for the Montreal Canadiens in all of them. The centerman on the legendary "Punch Line" between Toe Blake and Maurice Richard, played a hard and physical style while still being able to consistently produce points.
The peak of Elmer's career was winning the Hart Memorial Trophy as the NHL's MVP in 1944-45. His 80 points (26 goals, 54 assists) led the NHL in scoring in only a 50-game season. He collected the trophy after slightly nudging out his linemate Maurice Richard who had become the first player to score 50 goals in 50 games. Lach collected the Art Ross Trophy one more time in 1947-48 a year after fracturing his skull during a game.
After capturing Lord Stanley in the 1943-44 and 1945-46 seasons, Lach scored the Cup-winning goal in 1953 to get himself his third championship. His success on the ice did not come without sacrifice and as a result of several gruesome injuries including breaking his nose seven times, cracking his jaw twice, shattering his cheekbone and severing two veins on a skate blade, Lach decided to finally hang them up. He retired as the league's all-time leading scorer with 623 points (including 215 goals) in 664 games. Elmer also added 19 goals and 64 points in 76 Stanley Cup playoff games. As part of their centennial celebration in 2009, the Canadiens retired Lach's No. 16 which will forever hang in Montreal.
Back to Inductees