Player
Edward "Eddie" William Shore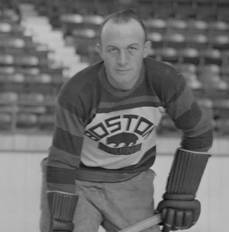 From Cupar, Eddie Shore started playing hockey competitively while attending the Manitoba Agricultural School in Winnipeg. He went on to play senior hockey for the Melville Millionaires for the 1923-24 playoffs and led the team in scoring. Eddie then turned professional with the Western Canada Hockey League, first playing for the Regina Capitals and then the Edmonton Eskimos.
When the league folded in 1926, Eddie was acquired by the Boston Bruins. Eddie was the most exciting rushing defenceman of his day. In Stanley Cup playoffs, he played a total of 55 games, scored six goals and had 13 assists for 19 points, as well as drew 181 penalty minutes. After 13 years with the Bruins, he was traded to the New York Americans.
In 1939, he became the owner of the Springfield Indians of the American Hockey League. For the first year, he owned, coached, and played for the Indians while also playing simultaneously for the New York Americans. He sold the team in 1976.
Shore's list of accomplishments are numerous:
Won the Stanley Cup twice with the Boston Bruins (1929 & 1939)
NHL Most Valuable player (Hart Memorial Trophy) four times (1932-33; 1934-35; 1935-36; 1937-38)
NHL First All-Star team defenceman seven times (1930-31, 1931–32, 1932–33, 1934–35, 1935–36, 1937–38, 1938-39)
NHL Second All-Star team defenceman (1933-34)
1947: Inducted into the Hockey Hall of Fame
1947: His #2 was retired by the Boston Bruins
1970: Lester B. Patrick award for contributions to hockey
1975: Inducted into Canada's Sports Hall of Fame
1998: Hockey News magazine ranked him 10th on their list of 100 Greatest Hockey Players
The AHL created "The Eddie Shore Award" to annually recognize an outstanding defenceman.
Back to Inductees