Player
Edward "Eddie" Litzenberger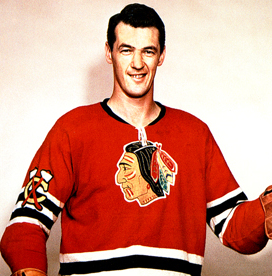 Edward 'Eddie' Litzenberger was born in Neudorf and played his minor hockey in Weyburn. He became an outstanding player with the Regina Pats from 1949 to 1952, scoring 332 points in 197 games. He served as captain of the Pats in 1950-51 and 1951-52 and made the Western Junior League All-Star team in the same years. He was on the Pats teams that vied unsuccessfully for the Memorial Cup in the 1949-50 and 1951-52 seasons. Eddie's most successful year with the Pats was the 1950-51 season when he was runner-up in the scoring race in the Western Canada Junior League.
His 12-year career in the NHL saw him play with the Montreal Canadiens, Chicago Blackhawks, Detroit Red Wings, and the Toronto Maple Leafs. In his first full year in the NHL, Litzenberger was named the winner of the Calder Trophy as Rookie of the Year even though he was traded midway through the season from the Habs to the Blackhawks. He was named to the Second All-Star team in the 1956-57 season and was selected to play in five other All-Star games during his NHL career.
His leadership skills were appreciated by his teammates and management during his stay with the Blackhawks and he was appointed team captain for two seasons. While playing with Chicago, Litzenberger was a vital part of the team's Stanley Cup Championship in 1960-61 (Chicago's first Stanley Cup since 1937-38). He was traded following that season to the Maple Leafs where he led his new team to three consecutive Stanley Cup championships. In his 658 games in the NHL, he scored 183 goals and assisted on 252 others. Litzenberger followed up his NHL career with a stint in the American Hockey League where he helped the Rochester Americans team to two Calder Cup Championships in 1964-65 and 1965-66.
In 2002, Litzenberger was inducted into the Saskatchewan Sports Hall of Fame. In 2010, he passed away at the age of 78.
Back to Inductees