Player
Edward Charles "Ed" Van Impe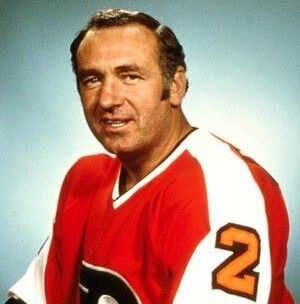 Edward Charles "ED" Van Impe's hockey career began playing Junior with the Saskatoon Quakers of the Saskatchewan Junior Hockey League from 1956 to 1961. Van Impe was a tough, determined player that had a keen eye for the game. Consistently displaying these abilities allowed him to become one of the ultimate defensive-defencemen of his day.
Van Impe began his minor-pro career playing for the Buffalo Bisons of the American Hockey League. Van Impe spent five seasons in Buffalo before cracking the Chicago Blackhawks lineup in 1966-67. During the final season of Original Six hockey, Van Impe finished as the runner-up to Bobby Orr for the Calder Trophy as the National Hockey League's Rookie of the Year. Left unprotected by the Blackhawks in the Intra League Draft, Van Impe was selected by the expansion Philadelphia Flyers. Van Impe's rugged style of play fit in well with the Flyers brand of hockey and in just his second season with the Flyers organization, the team named him Team Captain.
Van Impe's forte was body contact and shot-blocking, as well as clearing opponents from the area in front of his team's net. Van Impe was part of the notorious Broad Street Bullies that captured two Stanley Cups in 1974 and 1975. During his career, Van Impe was selected to play in the NHL All-Star game three times in 1969, 1974 and 1975. Van Impe retired from hockey in 1976 as a member of the Pittsburgh Penguins.
Van Impe was later inducted into the Philadelphia Flyers Hall of Fame in 1993. Over the course of Van Impe's career, he would appear in 700 regular-season games, collecting 27 goals, 126 assists, and 1,025 penalty minutes.
Back to Inductees