Builder
Dwight McMillan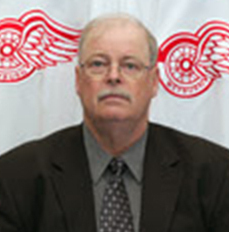 Dwight McMillan (Weyburn) has been inducted into the Saskatchewan Hockey Hall of Fame in the Builders category.
McMillan is the winningest coach in Saskatchewan Junior Hockey League (SJHL) history after coaching the Weyburn Red Wings for almost four decades. Over the course of his extensive career, McMillan was named the SJHL Coach of the Year three times, won six league titles and five Saskatchewan-Manitoba championships. McMillan also led the Red Wings to national championship titles in 1984 and 2005. In 2008, he joined Scotty Bowman and Brian Kilrea as the only three men to guide their team to 1,000 career wins.
McMillan's service to the Red Wings organization actually dates back to the early '60s, joining the team as a player in 1961. He played for the Red Wings for the next four seasons before embarking on a short-lived professional career. Shortly after, he was asked to coach the Junior 'B' Wings and the team went on to win two championships in each of his first two years of coaching.
McMillan retired from coaching and the Red Wings organization in 2012. He was inducted into the SJHL Hall of Fame in 2009.
Back to Inductees