Player
Doug Bentley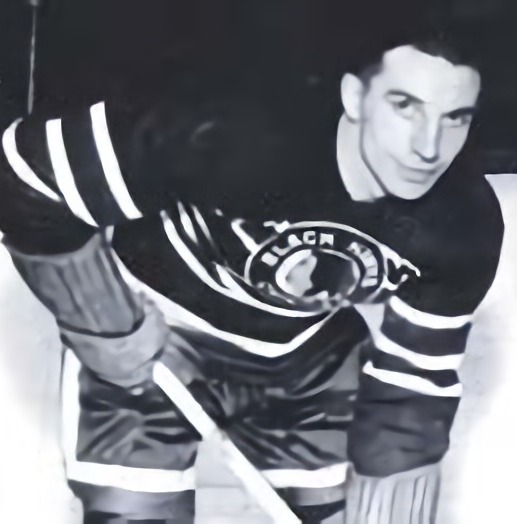 Doug Bentley was born on Sept. 3, 1916, in the town of Delisle. Doug spent his Minor hockey days terrorizing goaltenders around the province with his blazing speed, skillful touch and high hockey IQ. All 145 pounds of Bentley was originally perceived as too small to play in the NHL. Despite his size, it did not stop him from becoming the premier offensive threat that he always was in the NHL.
Bentley broke into the National Hockey League as a 23-year-old for the Chicago Blackhawks. He scored 12 goals in 39 games as a rookie in 1939-40. The following season, Doug's younger brother Max joined the Blackhawks. The brothers later combined with centre Bill Mosienko to form "The Pony Line," one of the most famous forward units in NHL history.
Doug won the NHL scoring title in 1942-43 with 73 points (33 goals, 40 assists) in 50 games; he was named a First-Team NHL All-Star and was runner-up for the Hart Trophy. Bentley missed the entire 1944-45 season due to problems crossing the U.S.-Canadian border during the Second World War. When he returned to the Blackhawks in 1945-46, he was back to his dominant scoring ways totaling 40 points (19 goals, 21 assists) in 36 games. Doug would go on to play a total of 12 seasons in Chicago where he registered 219 goals, 324 assists (543 points) in only 565 games.
Bentley retired from the NHL after eight games of the 1951-52 season. He then returned home to Saskatchewan where he would become the head coach in Saskatoon of the Western Hockey League. Doug's burning desire to return to play was too strong when he was given the opportunity to join his brother Max who was playing with the New York Rangers in 1953-54. The decision was for the best as the two brothers reunited for eight points in their first game in New York.
Doug continued coaching in the Minor leagues into the late 1960s and was inducted into the Hockey Hall of Fame in 1962. Doug and Max were inducted together into the Saskatchewan Sports Hall of Fame in 1967.
Back to Inductees