Player
Colleen Sostorics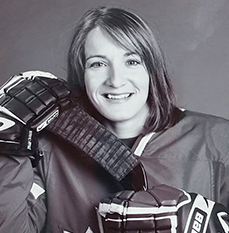 Colleen Sostorics (Kennedy) has been inducted into the Saskatchewan Hockey Hall of Fame in the Players category.
Sostorics played exclusively on boys' hockey teams until the age of 17 and even captained one in 1996. She competed with Team Saskatchewan at the 1995 Canada Games and the 1997 Canadian Under-18 championship prior to moving to Alberta to attend the University of Calgary in pursuit of a degree in economics when she also played on the school's women's hockey team. Sostorics was initially selected to represent Canada as a member of the National Women's Under-22 team in the 1998-99 season and went on to have an extensive career spanning 12 years with Team Canada as she represented her country at a variety of international tournaments and competitions. Sostorics is a three-time Olympic gold medallist (2002, 2006, and 2010) and a three-time world champion (2001, 2004, and 2007).
Sostorics' style of play was modelled after that of her idol, NHL player Scott Stevens, who was known for his heavy body checking of opponents. In addition to hockey, she excelled at soccer and fastball and was named Saskatchewan provincial MVP in fastball in 1994 and 1995. After her first Olympics, she also took up rugby and won a national championship with Team Alberta in 2003. She earned her bachelor's in economics in 2004 and a street in her hometown of Kennedy, Sask., was named in her honour in 2002.
Since retiring from playing, Sostorics continues her involvement in hockey as an instructor, coach, and public speaker.
Back to Inductees