Player
Clifford "Cliff" Koroll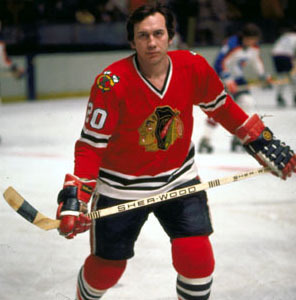 Clifford "Cliff" Koroll (Canora, Sask.) burst onto the Saskatchewan hockey scene playing for the Midget 'A' Saskatoon Wesley's. Koroll helped the team win a provincial championship in 1961-62 and was also a major factor in the Wesley's 1963-64 Juvenile 'A' provincial championship. Koroll would continue his hockey career as a player for the University of Denver Pioneers. During Koroll's Senior year at Denver, he would be named Team Captain in addition to being named to the National Collegiate Athletic Association's All-Star team.
Koroll's pro-career dream became a reality when he signed with the Chicago Blackhawks following his college years. He was sent to the minor-league team in Dallas where he would win the Central Hockey League championship title in 1968-69. The following season, Koroll was called up to the Chicago Blackhawks where he scored 18 goals and added 19 assists for 37 points. Koroll, who was considered one of the most consistent wingers during his career, skated in 814 regular-season games scoring 208 goals and gathering 462 points. He also registered five 20-goal campaigns in the NHL including a career-high 33 goals in 1972-73. During his career, Koroll played in 85 Stanley Cup playoff games, adding 19 goals and 29 assists. Koroll helped lead the Blackhawks to the Stanley Cup Finals in 1971 and 1973, losing both times to the Montreal Canadiens.
Upon retiring from the NHL in 1979-80, Koroll would make the switch to coaching. Koroll served as an assistant coach for the Chicago Blackhawks for the 1980-84 and 1985-87 seasons. During the 1984-85 season, Koroll served as head coach for the Milwaukee Admirals, Chicago's International Hockey League affiliate team.
Koroll's play and dedication would be highlighted on numerous occasions, including inductions into the Saskatoon Sports Hall of Fame (1991), the Chicago Sports Hall of Fame (1997), University of Denver Hall of Fame (2003), Illinois Hockey Hall of Fame (2010) and the Saskatchewan Sports Hall of Fame (2015).
Back to Inductees