Player
Clark Gillies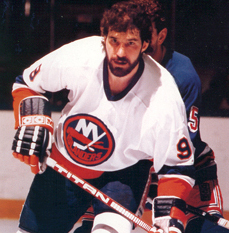 Clark Gillies was born and raised in Moose Jaw where he played baseball in the summer and hockey in the winter. He was a great ball player, playing 3 seasons in the minors in Houston, but ultimately, he decided to pursue hockey. He played for the Regina Pats for 3 seasons with his final season culminating in a Memorial Cup win (1974).
Clark was the 4th overall pick in the 1974 NHL draft, chosen by the New York Islanders. In the late 70's and early 80's, he was one of the NHL's premier left wingers and was a 1st team All-Star in 1978 & '79. He was also the MVP in the 1979 Challenge Cup series vs. the Soviets.
He played on the so-called "Long Island Lightning Company" line, with line-mates Bryan Trottier and Billy Harris who was later replaced by Mike Bossy. Clark was only 22 when, in 1977, he was selected to be the new captain of the Islanders. Clark played with the Islanders until 1986, leading them to 4 consecutive Stanley Cups. In '86, he was traded to the Buffalo Sabres where he played 2 more years before retiring in 1988.
4 consecutive Stanley Cups w/ NY Islanders (1980-83)
2 NHL First All-Star Teams ('77-78 & '78-79)
NHL Record of 4 consecutive game-winning play-off goals in 1977
Played for Canada in the Challenge Cup vs Soviets in '79 where named MVP
Played in Canada Cup Series in 1981
1996: Islanders retired his #9 jersey
2000: Regina Pats retired his jersey
2000: Inducted into the Saskatchewan Sports Hall of Fame
2002: Inducted into the Hockey Hall of Fame
Back to Inductees