Player
Brian Skrudland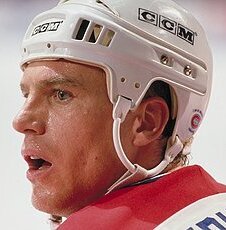 Brian Skrudland grew up playing his minor hockey in Saskatoon, which lead him to play for the hometown Saskatoon Blades of the Western Hockey League. After competing for three seasons in the blue and yellow, Skrudland finished his Junior career with 192 points.
Despite a strong Junior career, Skrudland went undrafted in 1983 but would join the Nova Scotia Voyageurs of the American Hockey League. After one year, the Voyageurs would relocate to Sherbrooke, Que., and in their inaugural year, would win the Calder Cup in 1985. During the playoffs, Skrudland picked up 17 points in 17 games on route to claiming the Jack A. Butterfield Trophy as the playoffs' Most Valuable Player.
Skrudland would make the jump to the National Hockey League the following season, playing for the Montreal Canadiens. He would be a force during their 1985-86 Stanley Cup playoff run, tallying 76 penalty minutes in 20 playoff games. Skrudland's efforts helped win his first, and the Montreal Canadiens' 23rd, Stanley Cup in franchise history. He would go on to play eight and a half seasons for the Canadiens, never missing the playoffs and being named Assistant Captain for the 1989 to 1992 seasons. Skrudland was later traded to the Calgary Flames during the 1992-93 season before moving to the expansion Florida Panthers the following season. Skrudland would be named the first-ever Captain in Florida Panthers history and remained Captain for four consecutive seasons. In 1997, he would sign with the New York Rangers and then later that year was traded to the Dallas Stars. It was in Dallas, he would claim his second Stanley Cup during the 1998-99 season. Skrudland played in his final National Hockey League season in 1999-2000, before transitioning to a coaching position with the Calgary Flames.
Over the course of Skrudland's career, he appeared in 881 regular-season games, compiling 124 goals, 219 assists, along with 1,107 penalty minutes. Skrudland was inducted into the Saskatoon Sports Hall of Fame in 2008 and has his number 10 jersey retired by the Blades franchise.
Back to Inductees