Official
Brad Watson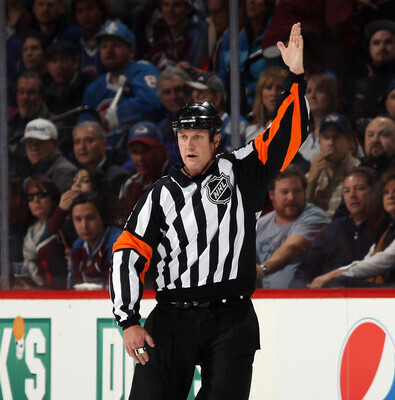 Brad Watson (Regina) began officiating in 1978 when he completed his official's exam and started officiating level 1 hockey. He would make the move up to Saskatchewan Junior Hockey League as linesman in 1982. After two seasons, Watson continued his progressions, moving up to the Western Hockey League as linesman in 1984. In the following seasons, Watson would gain multiple high-profile assignments including, linesman for the 1985 Air Canada Cup, the 1986 Memorial Cup, and the 1987 Centennial Cup hosted by Humboldt. It was in 1987 that Watson would make the switch to refereeing and would complete his Canadian Amateur Hockey Association's level 6 certification. In 1989, Watson would attend the National Hockey League (NHL) Referee's Evaluation Camp and be selected as an NHL trainee. Before making the jump to the big leagues, Watson would be assigned to the 1989 World Juniors in Anchorage, Alaska, the 1991 Isvetia Cup in Moscow, Russia, and the 1992 Spengler Cup in Davos, Switzerland. Also during that time, Watson would referee the Western Hockey League finals in four consecutive years from 1990 to 1993. In 1993, he would be offered his first NHL contract and would participate in his first NHL game on March 7, 1995, in a matchup between the Pittsburgh Penguins and the visiting Ottawa Senators.
Splitting time between the National Hockey League and American Hockey League, Watson would go on to officiate the 1995, 1996, 1997, 1998, and 1999 American Hockey League Calder Cup Championships and also the International Hockey Leagues' 1997 Turner Cup Finals.
Watson had many milestones during his career, among them were refereeing the Stanley Cup finals in 2003, 2004, 2006, 2007, 2008, 2012, 2013, and 2014. This also included being selected as an official for the NHL All-Star Game in both 1997 and 2008. Perhaps his biggest achievement was officiating at the 2010 Winter Olympics in Vancouver.
On Jan. 21st, 2014, Watson completed his 1,000th NHL game as a referee at a game in Denver, Colo. Watson retired from officiating following the 2018-19 season with over 1,100 NHL regular-season games and 182 playoff games.
Back to Inductees