Player
Bernie Federko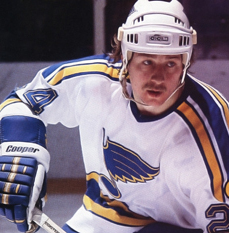 Bernie Federko was a player of note dating back to his minor hockey days in Foam Lake. He played for the Foam Lake senior team as a Bantam and won the league scoring championship that year.
Federko played three seasons of junior hockey with the Saskatoon Blades and still holds the team record for most assists. In his final season with the Blades, he led the Western Canada Hockey League in assists and points during the regular season and playoffs. He was named the WCHL Most Valuable Player in 1976.
Federko was drafted seventh overall by the St. Louis Blues in the 1976 Amateur Draft. During his National Hockey League career, Federko scored at least 100 points four times. He was the first player in the NHL to record 50 or more assists in 10 consecutive seasons.
Bernie was the 22nd player in NHL history to record 1,000 points in a career. Federko retired in 1990 and had played exactly 1,000 games in the NHL. The native of Foam Lake played in two NHL All-Star games and had his number 24 retired by the St. Louis Blues in 1992.
Federko was inducted into the Hockey Hall of Fame in 2002 and into the Saskatchewan Sports Hall of Fame in 2003.
Back to Inductees