Builder
Barry MacKenzie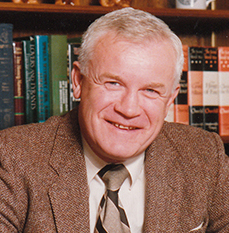 Barry MacKenzie is being inducted into the Saskatchewan Hockey Hall of Fame in the Builders category.
As a player, MacKenzie spent his Junior years with the Toronto St. Michaels Majors from 1960-62 and won a Memorial Cup. After a season at the University of British Columbia with the Thunderbirds, he joined the newly-founded Canadian national ice hockey team in 1963 and made an appearance at the 1964 Winter Olympics. After coming home empty-handed again in 1965, the Canadians won bronze medals at the 1966 and 1967 World Championships, as well as the 1968 Winter Olympics. Upon his return, he was picked up by the Toronto Maple Leafs and quickly traded to the Minnesota North Stars of the National Hockey League and played much of the season with the Minnesota South Stars of the Central Professional Hockey League. Following his brief NHL experience, he spent a year abroad with Japan's Seibu Tetsudo Tokyo team as a player/coach. Although he retired as a player in 1970, he returned to the country to coach the team from 1975 to 1978.
After returning to Canada, he began his tenure at the Athol Murray College of Notre Dame. Over the course of his 22 years spent there, he worked as a coach, principal and president. While at Notre Dame, MacKenzie coached his teams to national championships at both the Midget (1980 and 1986) and Junior levels (1988) while finishing as a runner-up in two additional seasons. MacKenzie coached a number of players that went on to play in the NHL including Rod Brind'Amour, Wendel Clark, Russ Courtnall, Curtis Joseph, James Patrick, and Scott Pellerin. MacKenzie left Notre Dame to become a part of the NHL's Minnesota Wild front office and was later named Director of Player Development.
MacKenzie was inducted into the International Ice Hockey Federation Hall of Fame in 1999 and was inducted into the SJHL Hall of Fame in 2013.
Back to Inductees