Team
2013-2014 Yorkton Terriers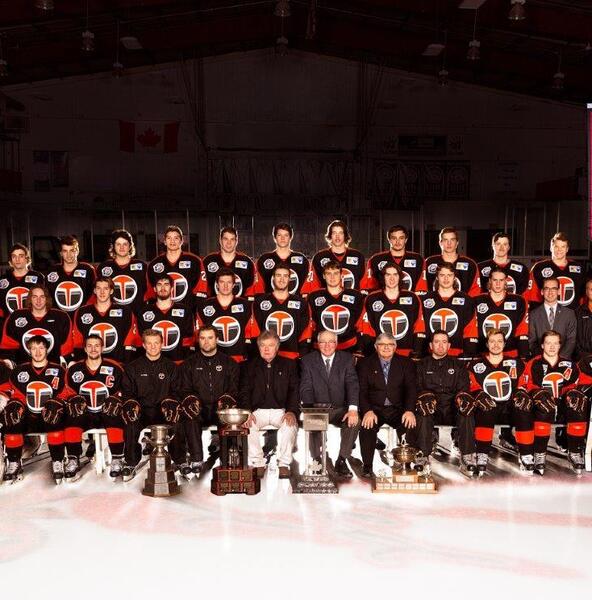 The (2013-14) Yorkton Terriers took the Saskatchewan Junior Hockey League (SJHL) by storm, finishing with a regular-season record of 37 wins, 12 losses, two overtime losses, and five shootout losses. The team was led by Team Captain Devon McMullen along with Assistant Captains Tyler Giebel, Chase Norrish and Brady Norrish. That season, Kale Thomson would be honoured as SJHL Goaltender of the Year and be selected to the SJHL All-Star team, along with teammates Chase Norrish and Brett Boehm.
The Yorkton Terriers were ranked first heading into the playoffs that season. They would claim the title as SJHL champions by beating the Notre Dame Hounds, the Humboldt Broncos and lastly the Melville Millionaires in the SJHL finals by a series of four games to zero. The Terriers finished the SJHL playoffs with a combined record of 12-2 as Chase Norrish was awarded the SJHL Playoffs Most Valuable Player.
Following the SJHL finals, the Terriers advanced to the Western Canada Cup which took place in Dauphin, Man. The regional championship featured teams from Manitoba, Alberta and British Columbia. The Terriers would finish the round-robin with a record of three wins, one loss and one shootout loss. That record earned the Terriers a bye into the final game where they beat the host Dauphin Kings by a score of 5-4.
Coming off a win at the Western Canada Cup, the Terriers would then travel to Vernon, B.C., to compete in the Royal Bank Cup. The Terriers would get off to a rough start, losing their first two games to the Toronto Lakeshore Patriots and the Vernon Vipers. The team would rally together and win their next three straight games for a birth in the championship game. The final game was not to disappoint as the Terriers proved victorious following a thrilling 4-3 overtime victory against the Carleton Place Canadians on the stick of Derek Falloon.
Back to Inductees