Team
2000-2001 Lloydminster Border Kings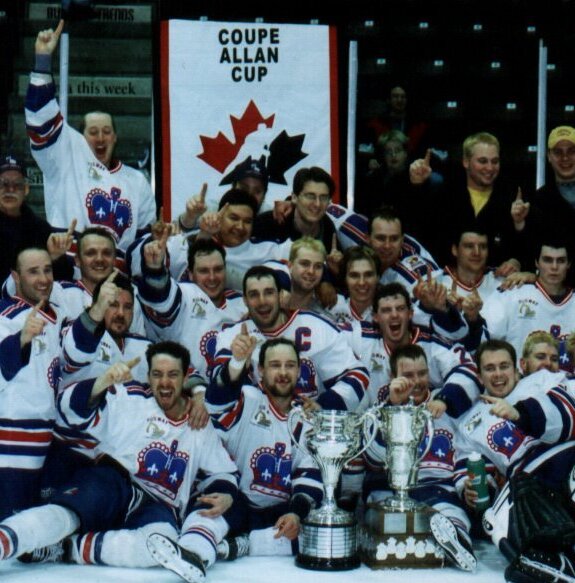 The 2000-01 Lloydminster Border Kings have been inducted into the Saskatchewan Hockey Hall of Fame in the Team Category.
The Border Kings had an incredible championship season in 2000-01 despite not having a league to play in that year. A series of exhibition games were played in preparation for a hopeful playoff run that would lead the team to the Allan Cup. The team did go on to capture the Provincial Senior AAA Championship title after defeating Paradise Hill in two straight games in the best-of-three series. The Border Kings then went on to faceoff against the Battleford Bruins in the best-of-five final where they defeated the Bruins in three straight. Next up was the Saskatchewan Manitoba Championship where the Border Kings swept the Gruthal Red Wings to advance to the national championship – the Allan Cup in Sarnia, Ont.
At the Allan Cup, the Border Kings played three round-robin games where they finished with two wins and a tie which earned them the top spot and a berth in the final versus the Petrolia Squires. The Border Kings continued their winning ways and defeated the Squires 7-2 to capture the national championship.
Over the course of the Allan Cup, the Border Kings outscored their opponents 24-10 with help from the Tournament MVP, Lloydminster goaltender Jason Clague, who had a 2.45 goals against average and a save percentage of .936 at the championship tournament. In addition to Clague, the team had four additional players named to the tournament All-Star team: defenceman Merv Mann and forwards Scott Hood, Greg Brown and Ian Munro.
The national champions had the summer to celebrate but come fall, the team travelled to Poland where they represented Canada in a three-game series against Poland's national team. Despite finishing the international series with a 0-2-1 record, there is no doubt the season was a success.
On the 2000-01 Allan Cup Championship Lloydminster Border Kings, 18 of the players on the team's championship roster were born in Saskatchewan.
Members of the 2000-01 hockey club include:
William Thon (H. Coach), Owen Noble (A. Coach), Jason Clague, Clint Chochan, Merv Mann, Brent Dallyn, Robert Quist, Chad Emigh, Trevor Rapchak, Tyler Scott, Ray Nielsen, Dustin Fallscheer, Morgan Mann, Jeff Nobel, Jason Ross, Derek Schutz, Ian Munro, Kevin Busch, Dave Morell, Greg Brown, Bart Redden, Jason Jutte, Corey Dallyn, Brad Bensmiller, Jeff Rosner, Scott Hood, Scott Wouters, Trevor Bygrove.
Back to Inductees