Team
1992-1993 Yorkton Mallers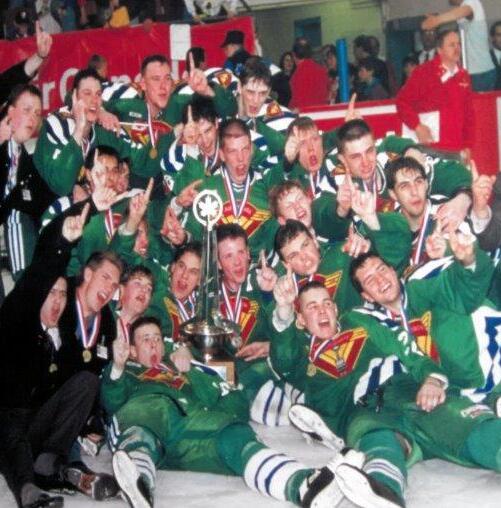 The (1992-93) Yorkton Mallers played in the Midget age category along with teams throughout Saskatchewan. Prior to the 1992-93 season, the Mallers were selected to host the Air Canada Cup Western Regional Tournament giving them an automatic birth in the tournament.
During the season, the Mallers finished in second place heading into playoffs. In the opening round, the Mallers quickly disposed of the Moose Jaw Warriors winning the series in two straight games of a best-of-3. In the second round, the Mallers took on the Saskatoon Blazers and were bounced from the playoffs when they lost a heartbreaking Game 5 by a score of 5-4. With the loss, the Mallers would now have to wait until they hosted the Air Canada Cup Western Regional Championships.
At the regional tournament, the Mallers would compete against the Thunder Bay Kings (Northern Ontario), the Winnipeg Hawks (Manitoba), and the Regina Pat Canadians (Saskatchewan), who prevailed over the Blazers in the league final. The Mallers steamrolled the competition at Air Canada Cup Regionals, going a perfect 4-0. With the victory, the Mallers would now move on to the national championship.
At the Air Canada Cup, the Mallers (West) would compete against Les Gouverneurs de Ste-Foy (Quebec), Sault Ste. Marie Legion (Ontario), Calgary Northstars (Pacific), the Fredericton Canadiens (Atlantic), and the host Kitchener Greenshirts. After the round-robin portion of the tournament, the Mallers would finish with a record of 2-2-1, good enough for third place and more importantly a spot in the semi-finals. This set the stage for a matchup with the Sault Ste. Marie Legion. The Mallers beat the representatives from Quebec handedly with a 4-1 victory. The Mallers then advanced to the Air Canada Cup Final against Les Gouverneurs de Ste-Foy. The Mallers again jumped out to an early lead; however, the Gouverneurs fought their way back and tied the game 4-4. After some tense final moments in the third period, the game went into overtime and the Mallers would cap their remarkable season and emerge victorious with a 5-4 win to capture the Air Canada Cup as national champions.
Members of the 1993 champions are:
Devon Hanson, Scott Prekaski, Robert Peterman, Craig Bilick, Lyle Michaluk, Derek Senkow, Lyte Andrusiak, Gary Banerd, John Kachur, Tyrone Parislau, Jared Skolnik, Derek Derow, Neil Schell, Robert Kozak, Greg Ducluzeau, Cory Herman, Jason Bilick, Ryan Hauber, Jess Rezansoff, Lee Rusnak, Allan Harrison (Coach), Grant Schrader (Coach, Wayne Henley (Mgr), Brad Harrison (Trainer), Doug Hansen (Equipment Mgr).
Back to Inductees