Team
1988-1989 Swift Current Broncos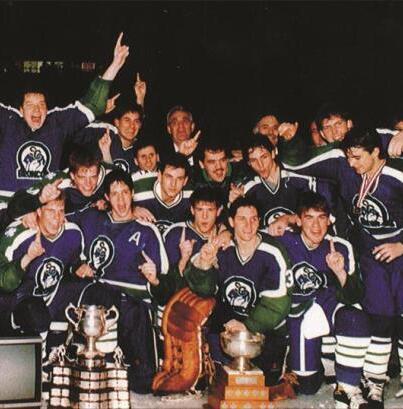 Just three years after returning to Swift Current and the devastating bus crash which cost the lives of four teammates in 1986, the Broncos reached the pinnacle of junior hockey winning the 1989 Memorial Cup.
The 1989 Broncos are one of the greatest teams in the history of major junior hockey winning 33 of 36 home games. They finished with 180 power-play goals and had five 100-point scorers.
The Broncos finished the regular season with a 55-16-1 record, good for 111 points, and went a perfect 12-0 defeating Moose Jaw, Saskatoon, and Portland en route to a berth in the Memorial Cup.
Members of the 1989 Memorial Cup team are:
Don Blishen, Dan Lambert, Kevin Knopp, Jeff Knight, Geoff Sanderson, Sheldon Kennedy, Tim Tisdale, Trevor Sim, Blake Knox, Peter Soberlak, Kyle Reeves, Mark MacFarlane, Kimbi Daniels, Kevin Barrett, Darren Kruger, Peter Kasowski, Bob Wilkie, Wade Smith, Brian Sakic, Chris Larkin, Trevor Kruger, Lorne Frey, Grant Farquhar, Gord Hahn, John Foster, John Rittinger, Bruce Franklin, Ramona Schwartz.
The 1989 Swift Current Broncos were inducted into the Saskatchewan Sports Hall of Fame in 2004.
Back to Inductees