Team
1987-1988 Notre Dame Hounds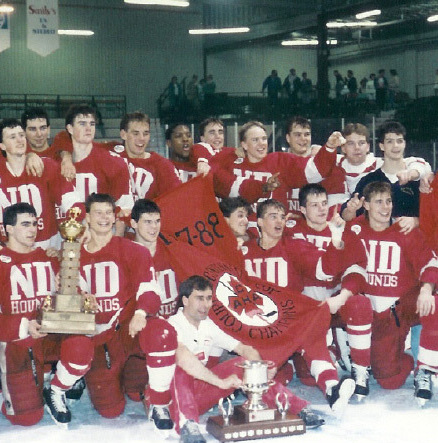 The 1987-88 Notre Dame Hounds have been inducted into the Saskatchewan Hockey Hall of Fame in the Team category.
When the Notre Dame Argos folded in 1976, there was no indication that a Notre Dame team would ever be back in the Saskatchewan Junior Hockey League. However, in the spring of 1987, the school's Midget AAA Hounds team had gone to the Air Canada Cup final, losing a close game to a team from Quebec. It was then they made the decision to step up a level and join the SJHL that fall.
Over the course of that inaugural Junior season and under the leadership of Head Coach Barry Mackenzie, the wins continued to pile up for the Hounds as they cruised to a league title-winning 53 of 60 games. After beating Yorkton in the SJHL final, the team went on to sweep Winnipeg to win the Anavet Cup. The Abbott Cup proved to be more of a challenge as they trailed the Calgary Canucks 3-1 in the best-of-seven series before coming back and winning three straight to claim another title.
The team headed east to Pembroke, Ont., to take part in the Centennial Cup. They defeated Halifax in the first game then claimed victory in the next game over Thunder Bay before losing a heartbreaker in overtime to the host Pembroke team. They did get a chance for revenge as they once again met up with the hosts in the semi-final and defeated them 7-3 to earn a berth in the championship game. The Hounds faced off against the squad from Halifax and despite being down 2-1 after 40 minutes, the team rallied back and completed their dream season with goals by Rod Brind'Amour and Dwayne Norris to capture the national championship title.
When the tournament awards were handed out, it was a sweep by the Hounds as Joby Messier was named the top defenceman while Brind'Amour was picked as the top centre, most valuable player and top scorer.
Members of the 1987-88 hockey club include:
Rod Brind'Amour, Dwayne Norris, Scott Pellerin, Curtis Joseph, Joby Messier, Jeff Batters, Todd Clark, Tim Green, Eric Schoefield, Tom O'Rourke, David Anderson, Derek Hopko, Sandor Fizli, Darrin MacKay, Jason Herterm Willie Mitchell, Guy Sanderson, David Stevens, Stephane Gauvin, Jeff Kerr, Rob Schriner, Steven Widemeyer, Greg Beaucage, Wayne Labrie, Llew Newana, Barry MacKenzie (Coach).
The 1987-88 Notre Dame Hounds were inducted into the SJHL Hall of Fame in 2013.
Back to Inductees