Team
1984-1985 Prince Albert Raiders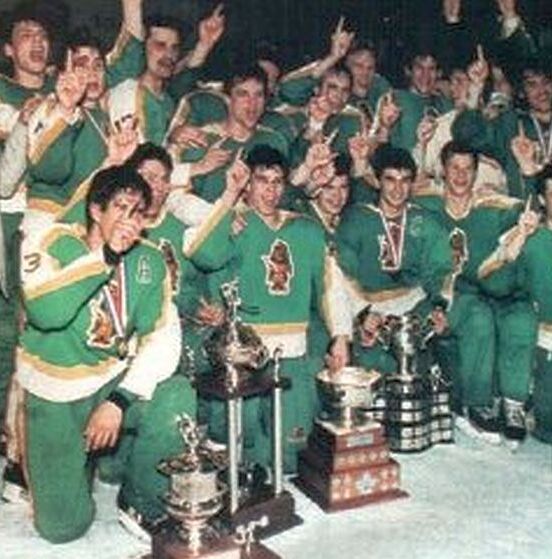 Just three years after their inception into the WHL, the Prince Albert Raiders had 13 returning players, got off to a great start, and never looked back. They set records in 1985 for wins (58), fewest losses (11), most goals (481), and fewest goals against (255). Dan Hodgson scored 70 goals, had 112 assists, and also played for Terry Simpson's national junior team in Finland.
Linemates Dave Pasin and Tony Grenier scored over 60 goals each, giving the line a total of almost 200 goals. This team was also as tough as they come. Dave Manson and Ken Baumgartner had close to 250 penalty minutes each while six others surpassed the 100 penalty-minute mark. The "PA" boys would lose only one playoff game in beating Calgary, Medicine Hat, and Kamloops to clinch the WHL championship and advance to the Memorial Cup in Shawinigan, Que.
In the Memorial Cup tournament, the Raiders played against Quebec champions Verdun, OHL champion Sault Ste. Marie, and host Shawinigan. Despite losing their first game, the Raiders came back to win four straight and capture the Memorial Cup title.
Members of the 1985 Memorial Cup champions are:
Ward Komonosky, Dave Goertz, Dan Hodgson, Ian McDonnell, Rick Wilson, Bun Young, Terry Simpson, Theresa Saretsky, Emanuel Viveiros, Dale McFee, Roydon Gunn, Ty Pirie, Rod Dallman, Pat Elyniuk, Kurt Woolf, Neil Davey, Kim Issel, Dave Manson, Curtis Hunt, Dave Pasin, Ken Baumgartner, Tony Grenier, Stan Wilson, Ken Morrison, Don Schmidt, Doug Hobson, Collin Feser, Dean Braham, Steve Gotaas, Brad Bennett.
Back to Inductees