Team
1983-1984 Wilkie Outlaws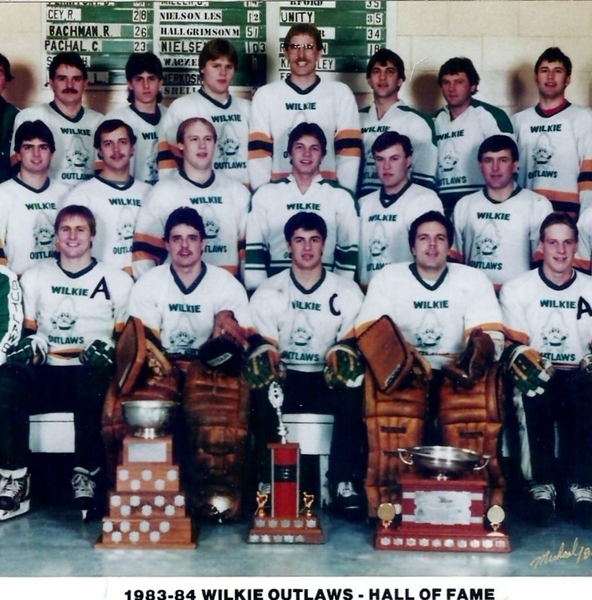 The 1983-84 Wilkie Outlaws have been inducted into the Saskatchewan Hockey Hall of Fame in the Team Category.
It was a time when Senior hockey was flourishing in Saskatchewan. The 1983-84 Wilkie Outlaws, members of the strong Wild Goose Hockey League, were a team continuing a winning and championship tradition. The team went unbeaten in 18 games over the course of the season and for the second year in a row, captured first place in the league. They then went on to sweep the Lloydminster Border Kings in the best-of-five series to claim the league championship title. The Outlaws continued their winning ways as their stellar play led them to series victories over Shellbrook, Unity and Biggar to claim the Northern Saskatchewan Provincial title. Next up was the provincial championship against the southern champions from Langenburg. The Outlaws came out strong and won the opening game 8-2 and then won 9-4 in enemy territory to capture the championship series and their second consecutive Saskatchewan Senior B Championship. This also marked the fifth provincial title for the Wilkie team which was quite an accomplishment for the town.
The 1983-84 championship team consisted of 19 talented players, 17 of which grew up and played their minor hockey in the Wilkie area. A unique aspect to the team's success was the contributions of the Cey clan who made up a third of the team's roster with six brothers – Gerry, Lester, Jamie, Roger, Harold and Joe who served as the team's captain.
The acknowledgements for the team and its players continued as several of the players were handed league awards. Mike Hallgrimson was named Rookie of the Year, while player/coach Dale Johnson was named Coach of the Year and three players were named to the All-Star team including goaltender Rob Griffiths, defenceman Lorne Nielsen and forward Joe Cey.
Members of the 1983-84 hockey club include:
Mark Szyda, Blake Nielsen, Dale Johnson (Player Coach), Mike Hallgrimson, Lorne Nielsen, Grant Miller, Herb Schell, Harold Cey, Clayton Pachal, Jamie Cey, Duane Gerein, Dwayne Pernitsky, Joe Cey, Rick Bachman, Roger Cey, Lester Cey, Gerry Cey, Les Nielsen, Rob Griffiths, Bill Cey (Mgr), John Griffiths (President), Jim "Percy" Williams (Trainer), Don Miller (Secretary/Treasurer), Vic Perlinger (A. Mgr).
Back to Inductees