Team
1983-1984 Weyburn Red Wings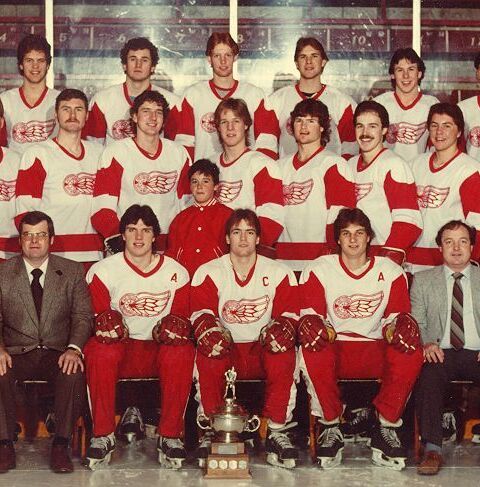 The 1983-84 Weyburn Red Wings Hockey Club is being inducted into the Saskatchewan Hockey Hall of Fame in the Team category.
The Red Wings had an incredible championship season in 1983-84 when they captured three titles making them Provincial, Western Canadian and National champions all in one season.
They had a solid regular season where they finished in second place in the Saskatchewan Junior Hockey League (SJHL) which also earned them a playoff berth. They went on to defeat North Battleford, Melville and finally Yorkton to claim the league championship. They then proceeded to defeat a team from Langley, B.C., to win the Western Canadian Junior Hockey Championship which then sent them to nationals. It was there that their victory over Eastern Canada's Junior Champions from Orillia, Ont., led them to be named National champions and claim the Centennial Cup.
Members of the 1983-84 hockey club include:
Rick Hayko, Tom Webb (Owner/President), Dwight McMillian (Coach), Mark Schneider, Ron Amyotte, Lyle Leach, Tom Hanley (Trainer), John Corrigan, Erin Hanley (Bench Person), Don Warman (Mgr), Kevin Stephenson, Mike Spencer, Jeff Liszewski, Marc Straub, Terry Lloyd, Jeff Canning, Mike Bolton, Troy Arndt, Ward Edwards, Ed Istace (Equipment Mgr), Ian Resch, Marc Casavant, Yvone Prefontaine, Tom Rudy, Todd Cornish, Scott Cowie, John Brunoro, Jim St. Onge (A. Coach).
The team was inducted into the Saskatchewan Sports Hall of Fame in 1995.
Back to Inductees