Team
1982-1983 University of Saskatchewan Huskies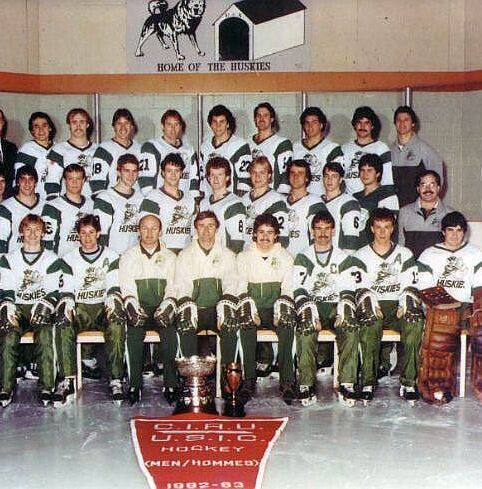 The University of Saskatchewan Huskies made three straight national championship finals from 1981-83. With former Huskie centre Dave King as coach, the "Hustlin' Huskie" was adopted as the symbol of the team to illustrate the values of hard work, dedication, and determination. After dominating the Canada West Hockey Conference throughout the 1982-83 season with a 16-8 record, the Huskies were triumphant and brought home the CIAU national championship by defeating the Concordia Stingers 6-2.
Members of the 1982-83 Huskies team are:
Dave Aldolph, Peter Anholt, Doug Archibald, Robin Bartel, Marc Chartier, Greg Chudiak, Willie Desjardins, Bob Dougall, Duke Duchserer, Owen Felske, Dennis Fenske, Larry Gaucher, Brent Hamilton, Tim Hodgson, Bill Hylnsky, Bruce Keller, Dick Kortje, Tim Leier, Ray Machibroda, Kevin McNaught, Arley Olson, Kerry Preete, Gord Tait and Randy Weibe, Dave King, Bill Seymour, Glen Hawker, Bill Stefaniuk, James Gattinger and Dr. Walter Hader.
The Huskies were inducted into the Saskatoon Sports Hall of Fame in 1999 and the Saskatchewan Sports Hall of Fame in 2000.
Back to Inductees