Team
1971-1972 Rosetown Redwings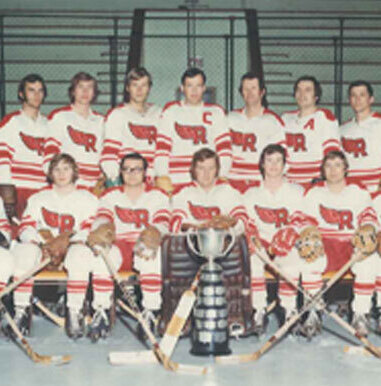 The Rosetown Redwings played 58 games in the 1971-72 season and finished with a record of 33-19-4. This put the Redwings first in their league. They made it to the league final where they were beat by Lloydminster.
When it came to the Senior "A" Provincial Playoffs, they met Lloydminster in the final once again. This time with a different outcome. The Redwings beat Lloydminster 3-2 in a best-of-five series.
During the 1971-72 series, Rosetown won the Einar Holtet Trophy (emblematic of first-place finishers in the Western Saskatchewan "A" League), the Henderson Trophy – Provincial Championship, and the Edmonton Journal Trophy – Western Canada Championship.
Members of the 1971-72 hockey club include:
Ken Fensom, Wally Bannach, Jules Hrapchuk, Danny Smith, Byron McCrimmon, Ron Hay, Terry Simpson, Ron Keogan, Denny Johnston, Mel Swyryda, Ed Young, Gordie Moore, Bill Reddick, Bob Marik, Gerald Follick, Stu Walker, Doug Piper, Neal Torrance, Gene Lambert, Tony Kollman, Jim Foster, Terry Peterson, Ed Lavigne, Blair Sterling, Howie Norrish, Byron McCrimmon (Coach), Harold Bowers (Trainer), Roy Moore (Mgr).
Back to Inductees