Official
Jules Swick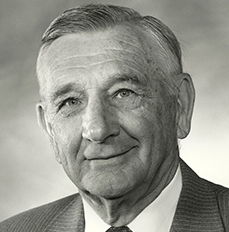 Jules Swick (Wakaw) – Jules Swick is being inducted into the Saskatchewan Hockey Hall of Fame in the Officials Category.
Swick was born in Wakaw where he played minor hockey as well as in Prince Albert before settling in Saskatoon. During his playing career Swick spent time with the New York Rovers, Troy, Ohio Bruins where he was voted most valuable player, and with the Indianapolis Chiefs.
Swick began his officiating career in 1957 and went on to spend 22 years in the Western Canada Junior League, some years in the Western Senior League, worked one Allan Cup senior final and one Memorial Cup junior final. He was referee-in-chief in Saskatchewan leagues, conducted clinics on behalf of the Saskatchewan Amateur Hockey Association, and was a director and president of the Saskatchewan Referees Association.
In 2001 Swick was inducted into the Saskatoon Sports Hall of Fame in the builder category for his contribution to hockey, baseball, softball and golf.
Back to Inductees