Builder
Graham Tuer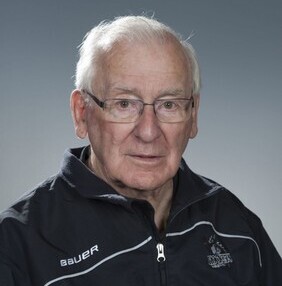 Graham Tuer (North Battleford) has been inducted into the Saskatchewan Hockey Hall of Fame in the Builder category.
Tuer's involvement in hockey spans more than five decades as he has worked in multiple capacities including as a volunteer, administrator, general manager and scout at every level in Minor and Junior hockey in Saskatchewan.
On a provincial level, Tuer helped create the Saskatchewan Development Model – a collaboration of the Saskatchewan Hockey Association (now Hockey Saskatchewan), Western Hockey League, Saskatchewan Junior Hockey League and the Saskatchewan Male AAA Hockey League to offer an athlete-centred development and education program to players across the province.
Tuer was the general manager of the Regina Pat Canadians when they captured the Air Canada Cup in 1988; served as assistant general manager and scout with the Regina Pats; spent 20 years as a scout with the Kelowna Rockets; and scouted for the NHL's Central Scouting Bureau.
Tuer has received a number of accolades over the course of his career including, most recently, receiving the Hockey Canada Order of Merit in 2015. In addition, he was inducted into the Regina Sports Hall of Fame in 2012; received the WHL Distinguished Service Award in 2010; was named Regina Pats Key Builder in 2010 and was the Sask Sport Volunteer of the Year in 2008.
His dedication and involvement in the sport continues as an advisor with the Saskatchewan Development Model and a liaison with the Regina Pats after rejoining the organization in 2015.
Back to Inductees