Builder
Gerry "Doc" Rooney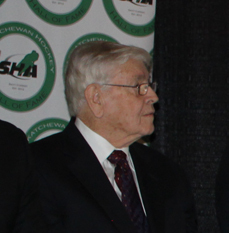 Gerry "Doc" Rooney (Estevan) has been inducted into the Saskatchewan Hockey Hall of Fame as a builder.
Rooney took the lead in establishing the Humboldt Broncos association. In 1970, he was approached by Mike Shabaga of the Swift Current Broncos, to see if Humboldt would be interested in entering the Junior A League.
In the team's first year, they made the league final. The following two years, Rooney helped lead the Broncos to two league championships as the team's Manager and Assistant Coach. He continued to manage the team until 1975, after which he worked in an advisory role until 1984.
During his hockey career, Rooney was on the SAHA (now Hockey Saskatchewan) Executive, a Member of the Saskatchewan Hockey Task Force, and on the Centennial Cup Committee.
Back to Inductees