Player
Fred Sasakamoose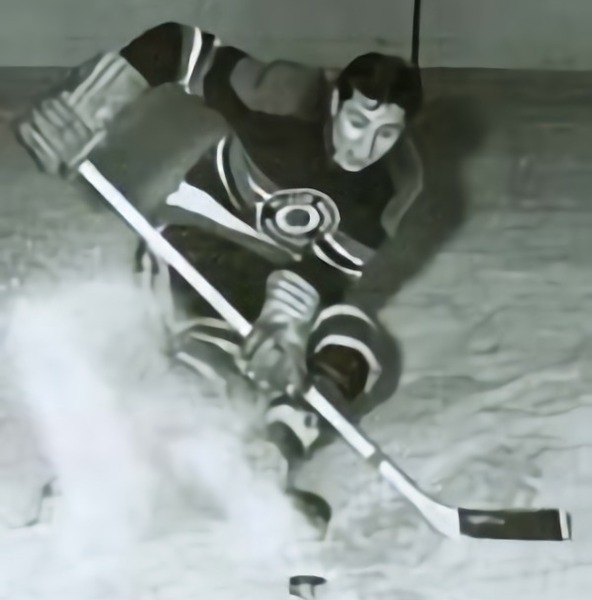 Fred Sasakamoose was raised by his parents, Roderick and Judith "Sugil" (Morin), in a six-by-seven metre log house on the reserve at Sandy Lake (now Ahtahkakoop Cree Nation), 72 kilometres northwest of Prince Albert.
As a young boy, Fred shared an especially strong bond with his grandfather Alexander Sasakamoose. Alexander could neither hear nor speak, however, he still taught his five-year-old grandson to skate, tying bob skates over his moccasins. A willow branch shaped with an axe was used as a hockey stick and frozen horse manure substituted for a puck. Fred practiced his skating on a frozen slough while his grandfather fished on a small lake nearby.
When Fred was seven years old, a priest, an RCMP officer and an Indian agent visited his family. The Indian agent declared them unfit parents because of their poverty. Fred and his nine-year-old brother Frank were taken away in a high-sided truck to attend St. Michael's Indian Residential School which was located in Duck Lake, Sask. It would be two years before Fred and Frank were able to see their parents again.
During the nine years Fred was forced to spend at St. Michael's, he experienced emotional, physical and sexual abuse. Nuns and priests forced Indigenous boys to chop off their braided hair and ordered them to only speak English. The one joy to keep Fred pushing forward was skating. Fred and many other Indigenous boys first began to play organized hockey at St. Michael's.
In 1949, St. Michael's hockey team (Duck Lake Ducks) won the provincial Midget championship. Fred was the star player who led the team to their success. The following summer, Fred's achievements on the ice had been recognized. A man named George Vogan and a priest drove up to the Sasakamoose family home in Sandy Lake where Fred was home visiting and asked his parents to allow Fred to attend hockey training camp in Moose Jaw with the Canucks.
Once arriving in Moose Jaw, he was billeted with George Vogan, general manager of the Moose Jaw Canucks, and his wife, Flora. The team played in the Western Canada Junior Hockey League and was a farm team of the NHL's Chicago Blackhawks. Fred played four seasons with the Moose Jaw Canucks. Sasakamoose scored 31 goals in 34 games in the 1953–54 season and was named Most Valuable Player in the WCJHL. Following the last game of the season, the team was told to wait in the dressing room for an announcement. George Vogan read out a telegram: "Fred Sasakamoose, report immediately to the Chicago Blackhawks." The dressing room erupted in excitement from his teammates.
After a three-day train ride from Moose Jaw to Toronto, Sasakamoose made his NHL debut suiting up in Maple Leaf Gardens. Fred played 11 games with the Blackhawks in the 1953–54 season. Following retirement from completive hockey, Fred farmed, trapped, and hunted from his home base at Sandy Lake.
While finally enjoying time with his family, he never forgot his love of hockey and belief in the power of sports to improve lives. Fred used his fame to promote opportunities for youth in sports including hockey, long-distance running, track and field, soccer and basketball. In 1962, Sasakamoose was a founding member of the Northern Indian Hockey League. He was also a founding member of many initiatives including the Saskatchewan Indian Summer and Winter Games, Saskatoon's All Nations Hockey School and Fred Sasakamoose All Star Hockey Week, a multi-racial hockey camp. Fred served on the NHL Ethnic Diversity Task Force and was an active board member for the Aboriginal Healing Foundation.
Fred's journey to becoming the National Hockey League's first Indigenous player was remarkable for the trauma he was forced to endure. In 1994, Sasakamoose was one of the first athletes to be inducted into the Saskatchewan First Nations Sports Hall of Fame. He was also inducted into the Saskatchewan Sports Hall of Fame in 2007. Fred can be remembered as an original trailblazer, a leader and a hero for all Indigenous people.
Back to Inductees