Builder
Delbert "Del" Wilson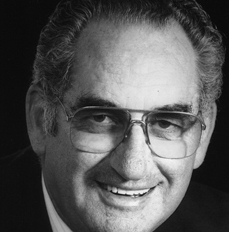 Del Wilson has been a fixture with the Pats, boasting a 25-year career with junior hockey in Regina. He began his hockey career as a goaltender for the Regina Abbotts in 1945 and the Pats from 1946-47 (when the Abbotts and Regina Commandos were joined).
Del began coaching the Pats Minor teams in 1948, coaching Bantam, Midget, Juvenile, and Junior B teams simultaneously until 1965, winning 35 provincial and three international titles. He served as the general manager from 1956-68 while also scouting for the Montreal Canadiens in Western Canada.
He was a driving force in establishing the Western Canada Junior Hockey League and the Canadian Major Junior Hockey League, and in 1970 he was part of the group that led the WHL into a partnership with Ontario and Quebec.
Del was part of a group of investors to purchase the Pats in 1970 and served as general manager and president for another six seasons. Del left the Pats in 1980 but continued to be involved, serving as chairman of the board of the WHL for six years and chairman of the board of the CJHL. He served one year as president of the WHL.
He was Referee-in Chief for the WHL from 1980-82 and in 1995 retired as a scout for the Canadiens after 47 years (1948-'95). The Del Wilson Trophy is awarded annually to the top goaltender in the WHL.
His accomplishments were many including winning 13 provincial Bantam titles, 12 Midget titles, eight Juvenile titles, and two Junior B titles. In addition, his clubs captured three Juvenile International titles in 1954, '56, and '58. In 1967, he led an All-Star team to a gold medal against the Russians in the Labatt Cup, and in 1973 led the Pats to a silver medal in the Ahearne Cup. In 1974, Del led the Pats to win the Memorial Cup.
In 2005, Wilson received the first-ever WHL Board of Governors award and in 2006 he received the Cofounders award from the WHL to commemorate the WHL's 40th anniversary.
In 2006, he was inducted into the Regina Sports Hall of Fame, and in 2010 was inducted into the Saskatchewan Sports Hall of Fame.
Back to Inductees