Team
2004-2005 Saskatoon Contacts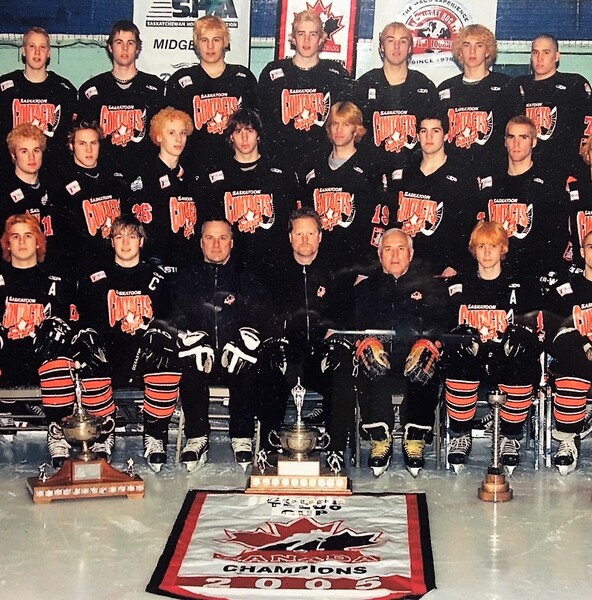 The 2004-05 edition of the Saskatoon Contacts was a strong and formidable opponent. The Contacts took the Saskatchewan Midget "AAA" Hockey League (SMAAAHL) by storm, finishing with a regular-season record of 38 wins, three losses, two ties and one overtime loss. Lead by a leadership group which included Team Captain Cody Danberg, along with Assistant Captains Brady Wacker, Ryan Adams and Scott Brownlee. Notable players on the roster that season included the likes of National Hockey League players Luke Schenn and Eric Gryba.
Ranked first heading into playoffs, the Saskatoon Contacts would claim the provincial title after finishing with nine wins and three losses, beating the Notre Dame Hounds in the league final. After winning the Western Regional against their Manitoba opponents, the Contacts secured a spot in the 2005 national Midget "AAA" championship. The Contacts made their way to Gatineau, Que., for a six-team, round-robin tournament. The Contacts would finish with four wins and one tie before the playoff round began. The black and orange Contacts would play Don Mills, representatives from Ontario in the semi-final. After beating Don Mills by a score of 3-1, this set up a national final against the host team, Gatineau Intrépide. The game began as expected, fast-paced and physical to set the tone. Scoring by Makstr Lacoursiere, Nick Kalnicki, David Richard and Russell Goodman proved to be enough as the Contacts claimed the national title by a score of 4-1.
The Contacts capped the year off as national champions along with claiming the prestigious Mac's Midget "AAA" Invitational Tournament earlier that season.
Back to Inductees