Team
2002-2003 Humboldt Broncos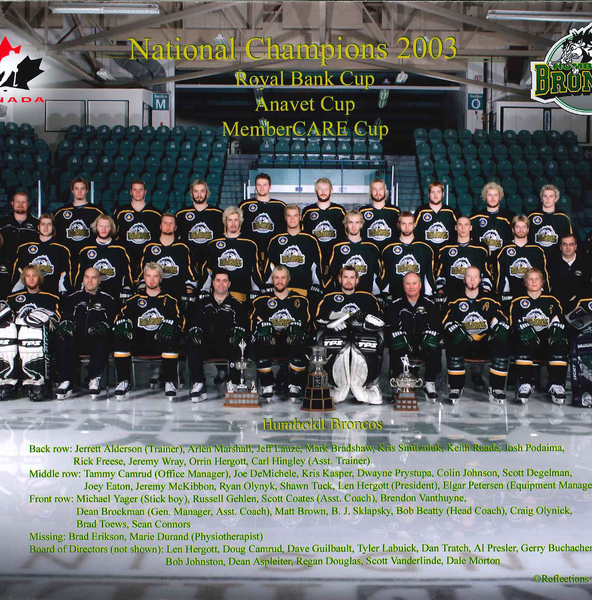 The 2002-03 Humboldt Broncos have been inducted into the Saskatchewan Hockey Hall of Fame in the Team category.
The Broncos had a very good 2002-03 season in the SJHL which helped lead them to a successful showing not only provincially but nationally. The team finished first in the SJHL with a 39-12-6-3 record. Humboldt defeated Melfort 4-0 in the first round, Battleford 4-2 in the second round, and Melville 4-0 in the league finals.
The Broncos advanced to the Anavet Cup where they defeated the OCN Blizzard 4-1. The Anavet Cup win moved the Broncos to the Royal Bank Cup where they beat the Camrose Kodiaks of the AJHL 3-1 in the final to claim the championship.
Members of the 2002-03 hockey club include:
Jerrett Alderson (Trainer), Arlen Marshall, Jeff Lauze, Mark Bradshaw, Kris Smitzniuk, Keith Reade, Josh Podaima, Rick Freese, Jeremy Wray, Orrin Hergott, Carl Hingley (A. Trainer), Tammy Camrud (Office Mgr), Joe DeMichele, Kris Kasper, Dwayne Prystupa, Colin Johnson, Scott Degelman, Joey Eaton, Jeremy McKibbon, Ryan Olynyk, Shawn Tuck, Len Hergott (President), Elgar Petersen (Equipment Mgr), Michael Yager (Bench Person), Russell Gehlen, Scott Coates (A. Coach), Brendon Vanthuyne, Dean Brockman (GM, A. Coach), Matt Brown, B. J. Sklapsky, Bob Beatty (H. Coach), Craig Olynick, Brad Toews, Sean Connors, Brad Erikson, Marie Durand (Physiotherapist).
Back to Inductees